The MPS Program at Quincy Shipbuilding
The MPS Concept, Capabilities, & Characteristics
Click on the image for a larger version, or on the words "Jumbo Image" for an extra-large (approx. 1500x1200 pixel) version.


An early artist's concept of the Maritime Prepositioning Ships in action. The MPS program represented a significant departure from most previous sealift ship concepts. In the past there had been two general types of transport ships - the Amphibious Force and the Sealift Fleet. Amphibious ships were intended to transport and land an invasion force directly onto an enemy beach. Sealift ships were intended as resupply and logistics ships, unloading their cargoes in secure ports, generally staying away from the beachead. Sealift ships often carried only one type of cargo (vehicles, fuels, stores, or troops, for example), whereas Amphibious ships generally needed to carry the full range of cargo in each ship.
The Maritime Prepositioning Ships combined aspects of the traditional "amphibious" and "sealift" roles into a single platform. The MPSs are capable of transporting an entire landing force, with all the required equipment and supplies, and landing the force directly onto the beach, with no port facilities. In addition, the ships are prepositioned, moored in a ready-to-steam condition in various ports around the world, near potential "hot spots". Prepositioning allows much faster response to rapidly-developing conficts or crises, since the ships need only sail a relatively short distance, rather than deploying from the United States. The MPS concept calls for the the ships to get underway and steam towards the crisis area when needed, while the Marines fly in from the United States to meet up with the ships. However, these ships are designed as unarmed, civilian-manned vessels, and are not intended as the "first wave" of an assault on a hostile beach. Instead, they would serve as the "first wave" only when entering a non-hostile situation, or as a "second wave" behind the Amphibious Force, and escorted by the fleet. After their cargo was unloaded in the theater of operations, they could serve in a resupply role, augmenting the conventional sealift fleet.

---

A later artist's concept, showing the Quincy prepositioning ships in their final form. Although the scene is somewhat fanciful, it does show many key characteristics of the MPSs. The vessels are shown anchored offshore, starting to unload their cargoes. Each ship carries 11 lighters/causeway section/warping tugs and two conventional landing craft to ferry the cargo ashore. The landing craft and cargo are unloaded by the ships' 39 ton cranes. In addition, each ship has a slewing stern ramp, which can launch amphibious vehicles directly into the sea, or land conventional vehicles to a pier. There is also a large helicopter deck for quick transfer of small, high-priority cargo. Not shown, but equally important, are the hose reels and specialized equipment provided to allow liquid cargoes (primarily fuels) to be pumped ashore while the vessel is anchored up to two miles offshore.

---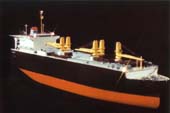 A builder's model of the Quincy MPS ships. This model shows the hose reels for offshore fuel discharge (forward), along with numerous causway sections/lighters, landing craft (aft), and containerized cargo (black boxes) on deck. The large superstructure block aft houses the ship's crew, and quarters for a Marine Corps "surge team" that could be sent to the ship in advance to prepare the cargo for unloading.

---

A cutaway of the Quincy MPS builder's model. [Jumbo Image] The model shows seven vehicle decks filling the aft two-thirds of the ship, providing 150,000 square feet (approximately four acres) of space for vehicles. Forward of the vehicle decks, there are large holds for container stowage, which are supplemented by weather-decks container stowages. In addition, the ships carry over 1.6 million gallons of cargo fuels - gasoline, diesel, and jet fuel.



Ship Characteristics & Capabilities

---

Principal Dimensions


Displacement: 41,700 tons

Overall Length: 673 feet

Beam: 105.5 feet

Draft: 29.5 feet


Propulsion & Machinery


Engines: 2 medium-speed diesels, 1 shaft, 26,400 hp

Speed: 18.8 knots maximum; 17.7 knots cruise speed

Range: 11,100 nautical miles at 17.7 knots

Three 2000 kw diesel generators


Cargo Handling Facilities


Cranes: five 39-ton cranes; rated for operation in seas up to five feet

Stern ramp: 66 ton capacity; accommodates all Marine Corps vehicles; can launch amphibious vehicles in five-foot seas

Offshore cargo discharge: liquid cargoes can be pumped ashore while the ship is anchored two miles offshore

Four-point mooring system for station-keeping in 50 knot winds and 3 knot current
Helicopter deck for all Marine Corps helicopters, including the CH-53E
Potable water production from two distilling plants; 36,000 gallon/day capacity
Accommodations: 30 ship's crew (civilian), 7 Military Sealift Command (civilian), 7 Navy, 25 vehicle maintenance personnel (civilian); 102 temporary berths for vehicle crews

Cargo Capabilities

---

Vehicle Cargo


Seven vehicle decks
Clear heights range from 6.5 feet to 15 feet
150,000 square feet (approximately four acres) total vehicle space
Approximately 1400 vehicles accommodated

Containerized Cargo - 522 standard (20 foot) containers, including the following


230,000 cubic feet for munitions
101,000 cubic feet for general cargo & stores
18,000 cubic feet for refrigerated stores
433 drums lubricating oil (containerized)

Fuels & Water


200,000 gallons gasoline
540,000 gallons diesel fuel
855,000 gallons jet fuel
82,000 gallons potable water

Deck Cargo


2 LCM(8) landing craft
10 lighters/causeway sections (6 unpowered, 4 powered)
1 warping tug/lighter
4 pipe trailers and 16 hose reels for the offshore cargo discharge system

Discharge Rates


Pierside: all vehicles and 16% of bulk cargo in 12 hours
Pierside: all cargo in three days
Anchored Offshore: all cargo in five days

Back to the Fore River Shipyard Main Page
This section of the HG&UW site created and maintained by Andrew Toppan.
Photos are General Dynamics or US Navy Official unless otherwise noted.
Some General Dynamics photos provided courtesy of Alden Sproul.
Copyright &copy 2003, Andrew Toppan. All Rights Reserved.
Reproduction, reuse, or distribution without permission is prohibited.