The MPS Program at Quincy Shipbuilding
Completion, Trials, & Delivery
Click on the image for a larger version, or on the words "Jumbo Image" for an extra-large (approx. 1500x1200 pixel) version.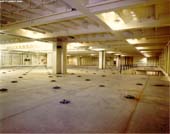 One of Bobo's vast vehicle decks. This appears to be the upper vehicle deck, with a relatively low overhead clearance.
[Jumbo Image]
---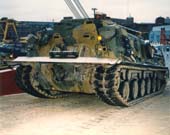 An M88A2 Armored Recovery Vehicle climb's Bobo stern ramp during vehicle loading demonstrations.
[Jumbo Image]
---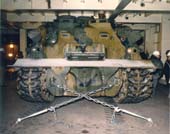 An M88A2 tied down in one of Bobo's vehicle decks.
[Jumbo Image]
---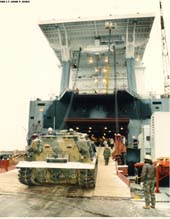 The M88A2 coming down the vehicle ramp. Note the paint crew working overhead, in a rather challenging spot under the helo deck.

[Jumbo Image]
---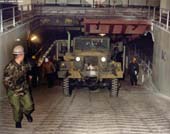 A Marine Corps truck climbing one of Bobo's internal vehicle ramps.
[Jumbo Image]
---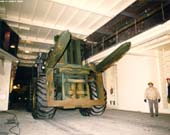 A Rough Terrain Forklift moving through Bobo's vehicle decks. Large equipment like this requires the full 15-foot clearance of the ships' highest vehicle decks.
[Jumbo Image]
---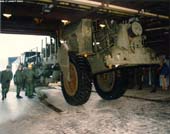 An M577 Light Recovery Vehicle headed down Bobo's stern ramp.
[Jumbo Image]
---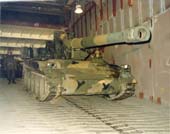 An M110A2 self-propelled 8" howitzer on one of Bobo's ramps.
[Jumbo Image]
---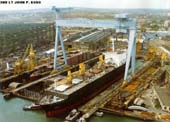 2nd LT John P. Bobo moving out of her construction basin. Although final outfitting work remains, the ship is very nearly complete at this stage. In the next basin, visible just above Bobo's forward hatches, is the superstructure for the next MPS, PFC Dewayne T. Williams. Williams' hull is taking shape in the third basin; two other MPS are being assembled in basins under the green crane superstructure at left.
---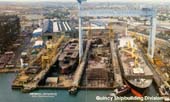 A second view of Bobo floating out of the construction basin.
[Jumbo Image]
---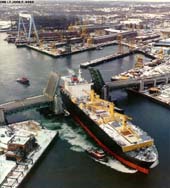 2nd LT John P. Bobo passing through the Fore River bridge on her way to the open sea. This is probably her delivery voyage, or possibly sea trials. The entire expanse of the Quincy yard is visible beyond the ship; the empty fitting-out berths foretell the coming fate of the yard. Bobo and her four sisters will be the last ships built at the yard.
[Jumbo Image]
---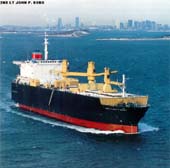 Bobo at sea, with the Boston Harbor islands beyond, and Boston's skyscrapers on the horizon.
---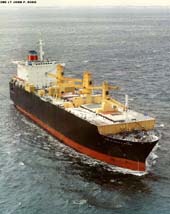 A final view of Bobo at sea, with the coastline vanishing on the horizon.
[Jumbo Image]
---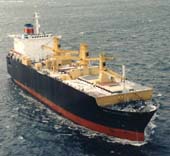 A closer view of the same photo.
[Jumbo Image]
---

Back to the Fore River Shipyard Main Page
This section of the HG&UW site created and maintained by Andrew Toppan.
Photos are General Dynamics or US Navy Official unless otherwise noted.
Some General Dynamics photos provided courtesy of Alden Sproul.
Copyright &copy 2003, Andrew Toppan. All Rights Reserved.
Reproduction, reuse, or distribution without permission is prohibited.