Haze Gray Mystery Pictures 70 through 79
Answers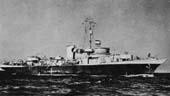 Mystery Picture #70
This is the US Coast Guard patrol gunboat USCGC Mayflower (WPG 183), formerly the Presidential yacht USS Mayflower. Mayflower's lines betray her origins as a yacht, but little else can be recognized from her glory days. She began her days as the yacht of Ogden Goelet, and was purchased by the Navy in 1898 for service as a gunboat during the Spanish-American war. In 1905 she hosted the Russo-Japanese peace conference. She then served as Presidential yacht until 1929, when President Hoover ordered the vessel decommissioned. She was sold and reconverted to a yacht, but was taken into the Coast Guard during WWII as a patrol vessel, as seen here.
Postwar she was sold and secretly outfitted to carry Jewish refugees from Europe to Palestine. On 3 September 1948 she arrived at Haifa carrying the refuges from Exodus, a refugee ship which had been turned back from Palestine previously. Her subsequent fate is not recorded, but she probably ended her days in a European scrapyard.
Correct answers were received from: Sergei Myagkov, Kevin Foster, Mike Potter, Matthew Rodriguez, Jr., Byron P. Connell, Paul Silverstone, Bill Vickrey, William J. Cooke, G. Buleca, John Snyder, Barry Gerrard, Craig Bennett, Czéh György, Leo V. Milito, Ric Pelvin, Yves Grangeon, Dave Nilsen, Ian Smith.
Photo Credit: Photo provided by Brooks Rowlett.




Mystery Picture #71
This is the Japanese destroyer Nenohi. Nenohi, launched in 1932, was a member of the Hatsuharu class. She was one of only two ships of that class completed to the original design, with superimposed 5" guns forward (Hatsuharu was the other ship). The two ships could be distinguished by the number of characters (syllables) in the names painted on their sides. Due to stability concerns, both ships were rebuilt soon after completion, with one set of torpedo tubes removed, and the upper 5" mount relocated aft. The other four ships of the class were similarly modified prior to completion.
Nenohi was sunk by a US submarine on July 4th, 1942.
Correct answers were received from: Klebert L. Hall, Dave Shirlaw, Johannes Ritter, Paul Silverstone, G.Buleca, Pierluigi Malvezzi, Aleksander Jaworski, Timothy Crick, Barry Gerrard, Patricio Meezs R., Fabio Peta, Eugenio Orsini, Bill Vickrey, Czéh György, Mats Onnby, Leo V. Milito, Ramiro Cruz, George English, Kevin McCarthy, Yves Grangeon, Ingo Hohm, Guy Markle, Edgar Dutkowski.
Photo Credit: Photo provided by Brooks Rowlett.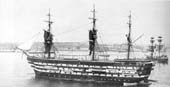 Mystery Picture #72
This is HMS Impregnable, formerly HMS Howe, a former 110-gun 1st Rate screw Ship of the Line employed as a training ship. Howe was completed in 1860 and reduced to training duty in 1885. In this view she has been modified in several ways - bow and stern enclosed, rig greatly reduced, gunports converted to windows, additional ports cut low in the hull, and numerous additional boats added, reflecting her role as a training ship. Trainees can be seen swarming in the rigging, and gathered on deck aft.
The other three-decker in this view, visible at extreme left below Impregnable's bowsprit, is HMS Conqueror, serving as a gunnery tender to the Devonport gunnery school.
Correct answers were received from: Edwin King, Andreas von Mach, Yves Grangeon, Brooks A Rowlett, Mark Lawden.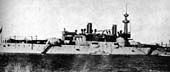 Mystery Picture #73
This is a mockup of a USS Indiana (BB 1) class battleship. The life-size mockup, built of wood and brick, was constructed in Lake Michigan for the 1893 Chicago World's Fair. It was intended to demonstrate the arrangement, appearance and power of the not-yet-completed Indiana class ships, the US Navy's first real battleships. The model was somewhat optimistic in the amount of freeboard, which was considerably less when the ships were completed. Although the mockup is somewhat less cluttered than the actual ship, it does show considerable attention to detail, i.e. ship's boats, ventilators, accommodation ladders, etc.
The mockup survived several years after the fair before it was demolished.
Correct answers were received from: Mike Potter, William H. Roberts, James Wade, Andy Breen.
Photo Credit: Photo provided by Brooks Rowlett.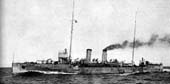 Mystery Picture #74
This is the cruiser Fei Hung, better known as the Greek Helle, running builder's sea trials. Fei Hung was one of a trio of small training cruisers ordered by the Chinese navy in 1910. The first of the class (Ying Swei) was completed in 1911 and delivered as scheduled, but the 1912 Chinese Revolution intervened before the remaining two ships, Chao Ho and Fei Hung, could be delivered. Both were placed up for sale, but were completed by their builders prior to being sold, probably in hope of attracting a buyer. Fei Hung was completed in 1913, and is seen here on trials, still owned by her builders, New York Shipbuilding. In 1914 she was sold to Greece and renamed Helle. Her sister Chao Ho did not find a buyer, and accepted by the Chinese navy, as originally intended.
Helle had an interesting career. In 1916-1917 she served under the French flag, following the French seizure of the Greek fleet. She was completely reconstructed in 1926-1928, emerging as a cruiser-minelayer, with new machinery, superstructure, masts, and fire controls, modified armament, and increased armor. Helle was torpedoed and sunk by an Italian submarine, 15 August 1940, while at anchor off Tinos Island. This incident caused considerable anger, as Greece had not yet entered the war, and the Italian cruiser Eugenuio Di Savoia was provided postwar as a replacement for Helle.
Correct answers were received from: Andreas von Mach, Paul Silverstone, Yves Grangeon, Mark Lawden, Czéh György, Jerry Church, Dale Shantz, Art Niemoller.
Photo Credit: Photo provided by Brooks Rowlett.




Mystery Picture #75
This is the Argentine cruiser La Argentina, a unique training cruiser built in 1936-1939 by the British firm of Vickers-Armstrong. Her design shows strong signs of her British origin, and at first glance might be mistaken for a contemporary Royal Navy cruiser. Although intended as a training ship, she was well-armed and fully capable of serving in the battle fleet. Throughout her career she alternated between training duties and service with the fleet, until she made her final training cruise in 1972. She was then decommissioned, stricken on 10 January 1974, and disposed of.
Correct answers were received from: Paul Silverstone, Mark Walton, Mark Lawden, Barry Lake, Ric Pelvin, Mike Potter, Ian Smith, Siemon Wezeman, Aleksander Jaworski, Ken Macpherson, Peter Beeston, Pierluigi Malvezzi, Yves Grangeon, John Snyder, Lacey Lylte, Guy Markle, Sune, Eugenio Orsini, Czéh György, Mark Stockwell, John Bradford, Ea Macneil, Tony Simmonds, Bill Myers, Dale Shantz, Art Niemoller, Stewart McArthur.
Photo Credit: Photo provided by Brooks Rowlett.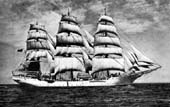 Mystery Picture #76
This is the Danish sail training ship Danmark. She shows several features typical of sail training ships, including larger and more numerous lifeboats, larger deckhouses, and more portholes than would be expected in a "working" sailing ship. She is distinguished from many other sail training ships by her rig - she is a full-rigged ship, while many others (including Eagle (ex-Horst Wessel), Sagres, Tovarisch, Mireca, and Gorch Fock) are rigged as barks.
Danmark was built for the Danish government in 1932 as a merchant marine sail training ship, and has served in this role throughout her career. She sailed to the United States for the 1939 World's Fair, and remained in US waters as war ravaged Europe; during the War the US Coast Guard employed Danmark as a training ship. The Danish ship returned home postwar, and was replaced in the US Coast Guard by the well-known USCGB Eagle, which had been obtained from the Germans as a war prize.
Danmark remains in service today, and is a frequent participant in "Tall Ships" events worldwide.
Correct answers were received from: Kevin J. Foster, John Snyder, John Bradford, Pete Randrup, James T. Flynn, Jr., Richard Heinbaugh, Yves Grangeon, Czéh György.
Photo Credit: Photo provided by Brooks Rowlett.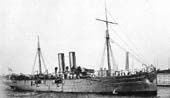 Mystery Picture #77
This is the gunboat USS Topeka Topeka was unique in the US Navy, and had a rather interesting history. Originally named Diogenes, she and a sister were built by Howaldt in 1880-1881 as merchant ships for Portugese owners. However, in 1881 they were purchased by Peru and converted to cruisers at Thames Iron Works. Her sister, Lima, was delivered to the Peruvian navy, but Diogenes was placed up for sale. In 1895 she was sold to the Japanese navy, but again was not delivered and again went up for sale. Finally, on 2 April 1898, she was purchased by the US Navy for service as a gunboat in Spanish-American War.
After brief war service, she began many years of service in various auxiliary roles, including service as a training ship, patrol ship, test & trials ship, station ship, and prison hulk, along with periods in reserve. She was designated PG 35 in 1920, and became IX 35 the following year. Topeka was finally sold in 1930, and was subsequently scrapped.
Correct answers were received from: James Flynn, Bruce Sinclair, Tennent H. Bagley, Paul Silverstone, Eugenio Orsini, Byron P. Connell, Pete Randrup, Dwayne Nutting, John Duerkop, Juha Joutsi, Andreas von Mach, Arne Ingar Tandberg.




Mystery Picture #78
This is the ocean escort (frigate) USS Talbot (DEG 4), serving as a test ship for PF 109/FFG 7 (Perry) class weapons systems. Talbot was a member of the Brooke class, the US Navy's first class of guided-missile frigate-type ships (she and her sisters were initially classified as DEGs, but changed to FFGs in 1975). Although they were capable ships, they were deemed too expensive for mass-construction, and their missile armament was small - only 16 Tartar/SM-1MR missiles. Prior to construction of the Perry (PF 109, later FFG 7) class frigates, Talbot tested the new 3"(76mm) OTO gun planned for that class. The gun was fitted forward, in place of her original 5"/38cal weapon, and the fire control radar was aft, above her small drone hangar. She later returned to her original configuration.
Talbot was decommissioned in 1988 and leased to Pakistan, along with several sisterships. These ships were returned to US custody in 1993-94, and were promptly sold for scrap.
Correct answers were received from: Barry Gerrard, Brian E Clough, Dave Mimms, Sal Mercogliano, Michael Connors, Yves Grangeon, Paul J. Adam, Sergei Myagkov, Mike Green, Dwayne Nutting, Eugenio Orsini, david jackson, Ed van Waart, Frank Roach, Espen Arnestad, Rick Barton, William F. Fessenden, Bill Blackmer, Paul Carl, Mike Potter, Ray Clark, Phil Tuckey, Joseph Poutre, Timo Herrala, Jerry D. Church, Bill Vickrey, Fabio Peña, Ian Smith, J.Scott Reed, Ed Vitali, Dave Shirlaw, Robert H Macdonald, Brooks Rowlett.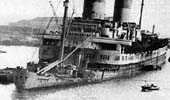 Mystery Picture #79
This is the liner SS Liberte, formerly the troopship USS Europa (AP 177), originally the German liner SS Europa, sunk at Le Havre, France, after 8 December 1946. Europa was built by Blohm & Voss as a passenger liner, completed in 1930. On the outbreak of WWII she served the German military as an accommodations ship, and by June of 1940 it was planned to use the ship as an invasion transport. Instead, she was designated for conversion to an aircraft carrier, one of series of five liners and cruisers so designated in May of 1942. She would have been the largest of the five converted carriers, but in the event no work was carried out, and plans for her conversion were abandoned 25 November 1942.
Europa was taken as a US prize 8 May 1945, following Germany's collapse. She was placed in commission as USS Europa (AP 177) on 25 August 1945, and made three trans-Atlantic trips to ferry US troops home. She then decommissioned 2 May 1946 and was transferred to the US State Department for further transfer to France as war reparations. Before she could be placed in service by the French she was wrecked and sunk at Le Havre, 8 December 1946, as seen here. She was raised 15 April 1947, reconditioned, and returned to service 17 August 1950 as SS Liberte. She was finally scrapped in 1962.
Correct answers were received from: Mark Lawden, Michael Hughes, Tom Stoodley, Barry Gerrard, Pete Randrup, Jeremy Dennis, Dorian Jung, Christoph Peeters, Don Rodeniser, Joe Donahoe, Mark Stockwell, Mike Green, Mark Tripp, Sal Mercogliano.
Photo Credit: Photo provided by Brooks Rowlett.



Back to the Mystery Pictures Main Page
This section of the HG&UW site created and maintained by Andrew Toppan.
Copyright &copy 1997-2003, Andrew Toppan. All Rights Reserved.
Reproduction, reuse, or distribution without permission is prohibited.