Haze Gray Mystery Pictures 60 through 69
Answers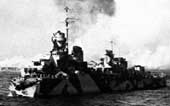 Mystery Picture #60
This is the Italian light cruiser Attilio Regolo, shown after she lost her bows to a British torpedo, 7 November 1942. She was one of 12 Capitani Romani class light cruisers (or more properly, large destroyer leaders), of which only three were completed during WWII. They were distinguished by their large, round fire controls atop the forward superstructure; Regolo was apparently the only one of the trio to carry a pole mast, rather than a tripod. She was torpedoed by HM Submarine Unruffled during a minelaying expedition in 1942; lengthy repairs effectively put her out of service until the Italian surrender.
Attilio Regolo was interned in the Balearic Islands from the surrender until early 1945, when she rejoined other Italian forces; she was laid up in reserve shortly after the war. In 1948 she was transferred to France as war reparations, and was renamed Chateaurenault. She served in the French navy through 1962.
Correct answers were received from: Dave Shirlaw, Dwayne Nutting, David Orzel, Mike Potter, Ken Macpherson, John Snyder, Siemon Wezeman, Aleksander Jaworski, John Duerkop, Patricio Meezs R., Ian Smith, Eugenio Orsini, C. Patrick Hreachmack, Mark Lawden, Espen Arnestad, Edgar Dutkowski, Mark Walton, John Bradford, Bill Ullmann.
Photo Credit: Photo provided by Brooks Rowlett.




Mystery Picture #61
This is the Japanese minelayer Itsukushima. This ship, built in 1928-1929, was the first Japanese surface ship with diesel engines. She was also notable for being one of the few flush-decked Japanese minelayers; aside from two larger cruiser-minelayers, all the others had raised forecastles. It is often said that her design was inspired by the British cruiser-minelayer HMS Adventure, but the designs had little in common; Itsukushima's displacement was about 1/4 that of Adventure.
Itsukushima was sunk by a Dutch submarine, 17 October 1944.
Correct answers were received from: Dave Shirlaw, Dwayne Nutting, Barry Lake, Ken Macpherson, Mike Potter, Siemon Wezeman, Paul Carl, Ludek Bartos, John Duerkop, C. Patrick Hreachmack, Mark Lawden, Espen Arnestad, Timothy Crick, Paul Silverstone, Tony Simmonds, Barry Gerrard, Dale Shantz, Edgar Dutkowski, Bruce T. Swain, William J. Cooke, Kevin McCarthy, Mats Onnby, Mark Walton, John Bradford, James Flynn, Robert H. Macdonald, Ingo Hohm.
Photo Credit: Photo provided by Brooks Rowlett.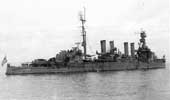 Mystery Picture #62
This is the Soviet cruiser Murmansk, formerly USS Milwaukee, (CL 5), returning to US waters for transfer back to the US Navy. Milwaukee was one of 10 Omaha class scout cruisers ordered under the 1916 shipbuilding program. Although intended as long-range scouts for the battle fleet, the scouting role was soon taken over by aircraft, and the 10 Omahas served as standard light cruisers, and as leaders for destroyer flotillas. Visually, these ships were distinguished by their four funnels, similar to the "four piper" destroyers.
Milwaukee served primarily in the Pacific between the World Wars, but made frequent trips to the Atlantic. During WWII, despite being worn-out and overdue for replacement, she served as a convoy escort in the Atlantic, and hunted German commerce raiders. On 20 April 1944 she was decommissioned and transferred to the Soviet Union as Murmansk, to temporarily satisfy Soviet demands for a share of the Italian fleet. An Italian cruiser was delivered to the Soviets after the war, and Murmansk was returned by the Soviets on 16 March 1949. She was immediately stricken, and was sold for scrapping soon thereafter.
Correct answers were received from: Tom Iamele, Barry Lake, Bill Vickrey, Kurt Greiner, Brooks A Rowlett, Mike Potter, Mark Walton, Steve Alvin, Dave Shirlaw, Ric Pelvin, Mike Green, Siemon Wezeman, Paul Carl, Lionel Teed, Craig Gagnon, Christopher Poulos, Michael Tricarico, Ken Macpherson, Dale Shantz, Jeff Smith, Roger A. Justus, William Blackmer, Mark Lawden, Sal Mercogliano, Barry Gerrard, G. Buleca, Czéh György, Arne Tandberg, Robert H. Macdonald, Rolf Røyrbotten, Kevin McCarthy, Richard Boss, Eugenio Orsini, Jack A. Green, William Johnson, Ludek Bartos, John Frohock, Aleksander Jaworski, Gordon G. Buttars, Dwayne Nutting, Matthew Rodriguez Jr., Dave Mimms, Tim Harrison, Patricio Meezs R., John Bradford, Mike O'Neill, Christopher Jones, John Gilbert, John Duerkop, Ian Smith, Sergey, William J. Cooke, Brian E Clough, Dave Jackson, Hugh Mowen, Duane Searles, Edgar Dutkowski, Kim Moeller Petersen, Espen Bonlid, Yves Grangeon, Tom Scott, Roger Torgeson, Rick Lundin, Bill Ullmann, John Snyder, Tony Simmonds, Bob LaPadura, David J Wille, Timothy Crick, Espen Arnestad, David Orzel, Mats Onnby, David Beasley, Byron P. Connell, Ty Martin, C. Patrick Hreachmack, Bradley Scott Barker.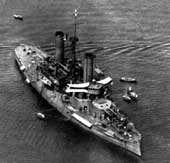 Mystery Picture #63
This is the Italian battleship Emanuele Filiberto, during the 1907 naval manuvers. Filiberto and her sister Ammiraglio di Saint Bon were an attempt to build a smaller, less expensive battleship; they were armed with four 10 inch guns, rather than the 12 inch and 13.5 inch guns common at the time. They were, however, no faster than contemporary ships, and suffered from relatively low freeboard. They were scheduled to be discarded in 1914-1915, after only about 14 years of service, but WWI intervened and they remained in service. They were ultimately stricken in 1920.
These ships showed several design features typical of Italian battleships of the era - a symmetrical layout with funnels spaced far apart, a single central mast, and very high barbettes. Filiberto's funnels were much taller than her sister's, providing a good means of distinguishing the ships.
Correct answers were received from: Mark Walton, Barry Gerrard, Yves Hubery, Mark Lawden, Arne Tandberg, John Bradford, Rolf Røyrbotten, Edgar Dutkowski, Tom Scott, Czéh György, Pierluigi Malvezzi, Timothy Crick, John Duerkop, David Orzel, William J Cooke. Photo Credit: Photo provided by Brooks Rowlett.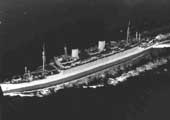 Mystery Picture #64
This is the WWII-era troop transport USS Wakefield (AP 21), formerly the liner SS Manhattan. Manhattan was one of three large, fast liners leased by the US Navy in June of 1941 (the others were SS Washington/USS Mount Vernon and SS America/USS West Point. Prior to WWII it had been planned to convert the trio to aircraft carriers, but instead they became troopships. As the largest and fastest US troopships, they were very busy throughout the war, and often operated together. Wakefield was manned by the US Coast Guard, the largest ship to be so operated.
Wakefield caught fire at sea 2 September 1942, quickly becoming a total loss. She was purchased by the Navy and was completely reconstructed at Boston. She is seen here after completion of that reconstruction, which altered her appearance signficantly. Wakefield survived in the reserve fleet for many years after the war, and was finally scrapped in 1964.
Correct answers were received from: Paul D. Edwards, Barry Lake, Dwayne Nutting, Barry Gerrard, Sal Mercogliano, Mike Green, Brooks A Rowlett, Paul Silverstone, Tom Whalen, John Snyder, Ken Macpherson, John Duerkop, Czéh György, Kevin Foster, Dave Shirlaw, Bill Vickrey, Espen Arnestad, Yves Hubert, Joe Lewis, Eugenio Orsini, Tony Simmonds, Jack A. Green, Bill Ullmann, Rick Barton.
Photo Credit: Photo provided by C. Patrick Hreachmack.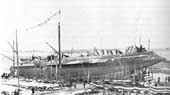 Mystery Picture #65
This is the US Navy armored ram USS Katahdin on her launch day, 4 February 1893, at Bath Iron Works, Bath, Maine. Katahdin was a truly unique ship. She was meant to work as part of an integrated system of harbor defenses, ramming and sinking enemy ships that had been disabled by coast defense guns. It was intended that a large number of these rams would be built, however, Katahdin turned out to be a one-off. Technology, tactical and strategic concepts, and Navy leadership all changed rapidly during her design and construction, so the ram was an unwanted orphan by the time she was delivered in 1896.
Katahdin failed to meet her contract speed of 17 knots, and the Navy refused to accept the ship. A lengthy contractual dispute followed, and the Navy was ultimately forced to accept the ship and pay BIW, because the flaw lay in the Navy's design, not in BIW's construction.
Katahin spent most of her career in reserve. Her most valuable contribution came in 1909, when she was sunk as a gunnery target for experimental purposes.
It is interesting to note that Katahdin was only the third ship to be constructed by Bath Iron works; the first two, the gunboats Machias and Castine, were still fitting out when this photo was taken. BIW's shipways have not moved significantly in the 105+ years since this photo; today, AEGIS destroyers are launched at this spot.
Correct answers were received from: Dwayne Nutting, William Hamblen, Steve Byras, David Orzel, Jeff Smith, Dave Mimms, Kevin Foster, Byron P. Connell, Timothy Crick, Jack A. Green, Steven Dulepka, Bill Ullmann, John Duerkop, C. Patrick Hreachmack.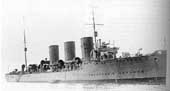 Mystery Picture #66
This is the super-destroyer or flotilla leader HMS Swift, probably just before WWI. Swift was a unique and bizarre product of Jackie Fisher's desire for exceptionally high speeds. At 2,390 tons displacement, she was many times larger than contemporary RN destroyers, which ranged from 400 to 1,000 tons. She was capable of remarkable 35 knots (nearly 10 knots more than many contemporaries), but even higher speeds had been hoped for. In appearance, she is cruiser-like, and her profile is dominated by the three massive funnels; internally, she was dominated by the massive and complex steam plant needed to achieve such high speeds.
The ship proved less than satisfactory in service. She was too weak for service in northern waters, her bridge was too flimsy, and she was quite wet. During WWI her bridge was enlarged and improved, and she was partially rearmed. She was discarded immediately after the war.
Correct answers were received from: William Hamblen, Brooks A Rowlett, Jon Godsell, Patricio Meezs R., Johann Ahlert Bremer, Barry Lake, Paul Silverstone, Dave Jackson, Bill Ullmann, Mike Potter, Ric Pelvin, Yves Grangeon, Tom Whalen, Adrian Wintle, Andy Breen, Robert H Macdonald, Ken Macpherson, Chris Buckey, David J. Newman, Ingo Hohm, John Bradford, Mark Lawden, John Duerkop, Arne Tandberg, Espen Arnestad, Pierluigi Malvezzi, Timothy Crick, Sune, Eugenio Orsini, Czéh György, Maxwell Mulholland, Tom Scott, Edgar Dutkowski, Christoph Peeters, C. Patrick Hreachmack.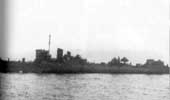 Mystery Picture #67
This is the destroyer HMS Campbeltown, disguised as a German destroyer for the famous raid on St. Nazaire, France, in 1942. Campbeltown was built as USS Buchanan (DD 131), one of hundreds of "four piper" or "flush deck" destroyers constructed during the WWI era. Buchanan was one of 50 such ships transferred to the UK under the "Destroyers for Bases" deal, becoming HMS Campbeltown on 9 September 1940. She served the Royal Navy as an escort until early 1942, when she was assigned a role in the St. Nazaire raid.
Given a superficial makeover as a German destroyer, her mission was to sail into the German-held port of St. Nazaire to ram and destroy the entrance gates of the giant "Normandie Lock". This giant drydock was the only dock along the Atlantic coast that could accommodate the German battleship Tirpitz. By destroying the dock, the British hoped to deter that ship from conducting raiding cruises in the Atlantic. After Campbeltown rammed the dock gate, commandos carried aboard ship, joined by others from accompanying small craft, would attack and destroy the pumphouses and other equipment essential to operation of the dock. Then, to ensure the dock was completely disabled, five tons of depth charges hidden in Campbeltown's bow would explode, destroying the ship and the dock gate.
This daring plan was carried out on the night of 28 March 1942. The next morning, as the Germans examined the destroyer that had crashed into the dock gates, the explosives detonated, destroying the ship, the gate, and a number of Germans. The mission was a success; the dock was not repaired until after the war, and Tirpitz never went raiding.
Correct answers were received from: Brooks A Rowlett, Patricio Meezs R., Jon Godsell, Dave Shirlaw, Barry Lake, Tom McLean, John Eade, Edward Wittenberg, Paul Silverstone, John Snyder, Bill Ullmann, Mike Potter, Ric Pelvin, David James, Yves Grangeon, Lionel Teed, Robert H Macdonald, Ken Macpherson, David J. Newman, Ingo Hohm, John Bradford, Mark Lawden, Sal Mercogliano, John Duerkop, Timothy Crick, Espen Arnestad, Barry Gerrard, Gene Frederickson, Czéh György, Mats Onnby, Maxwell Mulholland, Christoph peeters, Tony Simmonds, C. Patrick Hreachmack.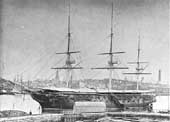 Mystery Picture #68
This is the screw frigate USS Wabash, housed over as a receiving ship at Boston, probably in the late 1870's. Wabash was one of six big, generally similar screw frigates built by the US Navy during the 1850's. These big ships were among the most powerful warships of the era, but they were rapidly overtaken by the advent of armored ships. Of Wabash's sisters, Merrimack became the Confederate ironclad ram Virginia, while Roanoke was converted to a three-turret monitor by the US Navy.
Following Civil War service, Wabash was laid up in reserve at Boston from February 1865 to October 1871; she then recommissioned for service in Mediterranean waters. She again decomissioned at Boston in 1874, and became a receiving ship the following year, replacing the old ship-of-the-line Ohio, which had previously filled that role (Ohio was shown in one of two "hint" photos during this mystery contest). In 1912 Wabash was finally sold and broken up for scrap.
I had not expected identification of this photo to be so difficult. Although many people identified the ship as Constitution, there are several features that distinguish the two vessels. Most notably, Wabash is more than twice the size of Constitution, has much higher freeboard, and carries two full decks of guns, while Constitution carried one full deck and a partial spar deck battery. The shape of her bow and stern also differ - Wabash has a rounded stern and two-level stern galleries, rather than Constitution's square stern and single galleries. I had expected that the lines of the big screw frigates would be readily recognized, and research into individual ship histories would have revealed which had served as receiving ships, and when.
A correct answer was received from: Brooks A. Rowlett. After three hints were posted, an additional correct answer was received from: Patricio Meezs R.




Mystery Picture #69
This is the Italian (former) battleship (ex-)Italia, hulked at Brindisi as floating battery, between 1915 and 1917. Italia was completed in 1885 as a rather unusual battleship. She originally had six funnels (3 forward and 3 aft), and a single central mast; her speed of about 18 knots was very high for the day. She could accommodate thousands of troops, making her somewhat of a cruiser-transport rather than a pure battleship. The arrangment of her main armament was equally unusual, as she had four guns in a large armored citadel, with no turret or other overhead protection at all. This was the era of giant guns, so she was fitted with 17 inch pieces; three 17"/26 caliber, and one 17"/27 caliber. In 1905-1908 she was modified to the form seen here, with the funnels reduced to four, and a pair of masts fitted.
Her near-sister Lepanto had four funnels from the start, but always carried one central mast; she had a uniform battery of four 17"/27 caliber guns.
Italia served in a variety of auxiliary roles after 1909; she was stricken in 1914 but continued in these duties, and was re-instated on the navy list in 1915. After several conversions and years in auxiliary roles, she was finally stricken in 1921 and subsequently scrapped.
Correct answers were received from: Andreas von Mach, Sergei Myagkov, Patricio Meezs R., Ian Mills, Barry Gerrard, Ric Pelvin, James Wade, John Bradford, Edgar Dutkowski, Pierluigi Malvezzi, Milton Kelly, Mark Lawden, Ingo Hohm, Espen Arnestad, Yves Grangeon, Byron P. Connell, Yves Hubert, Czéh György, Klebert L. Hall, Jimmy Reynolds, C. Patrick Hreachmach.
Photo Credit: Photo provided by Brooks Rowlett.



Back to the Mystery Pictures Main Page
This section of the HG&UW site created and maintained by Andrew Toppan.
Copyright &copy 1997-2003, Andrew Toppan. All Rights Reserved.
Reproduction, reuse, or distribution without permission is prohibited.