Haze Gray Mystery Pictures 30 through 39
Answers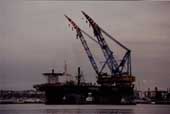 Mystery Picture #30
This is the heavy-lift craneship Saipem 7000, seen at Halifax (Dartmouth), Nova Scotia early in 1998. This giant craft has two cranes, each with a 7,000 ton lift capacity, for a total lift of 14,000 tons. It is by far the largest floating crane in the world.



Mystery Picture #31
This photo shows Bath Iron Works in 1957. The destroyers at the fitting-out pier and on the building ways are Forrest Sherman (DD 931) class ships. The two ships afloat are DuPont (DD 941) and Bigelow (DD 942) (DD 941 is probably outboard); those on the ways are (right to left) Hull (DD 945), Edson (DD 946) and Somers (DD 947).
The northern part of the yard is shown here much as it is today, but considerable expansion to the south (left in this view) has since taken place. Today there are only three building ways, rather than four, and they are served by two very large cranes. A further expansion project, now underway, will see replacement of the old building ways by a modern land-level assembly/launch facility.
The ships shown here have not been so fortunate: DuPont and Bigelow now await scrapping; Hull and Somers are to be sunk as targets. Only Edson has met a happier fate - she is a museum at New York.
Correct Answers were received from: Chris Cavas, Brooks Rowlett, Paul Yarnall, Paul Silverstone, Barry Gerrard, Graeme Fuller, Dave Shirlaw, Rweb56467@aol.com, Louis Colella, Peter Darling, "Angie & John", Michael J. Fitzgerald.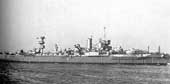 Mystery Picture #32
This photo shows the experimental/trials/developmental ship Wyoming (AG 17), formerly a battleship (BB 32). Wyoming was commissioned in 1912, at the height of the Dreadnought race. Although she underwent an extensive modernization in 1927, she was converted to a training ship in 1930-31 under the provisions of the London Treaty. During WWII several plans were put forth to re-convert Wyoming into a battleship or amphibious assault support ship, but no action was taken. In 1945 she was modified to the configuration shown here, with a battery of 10 5 inch guns, 4 3 inch guns and 11 40 mm AA guns replacing the last of her mighty 12 inch rifles. She took part in valuable developmental and experimental work during and after WWII, until she was decommissioned in 1947. The well-used Wyoming was scrapped at Newark in 1948.
Correct Answers were received from: Jinxx1@aol.com, djf, Mike Green, Roger Britton, Paul Silverstone, Tim Lanzendoerfer, pietercena@freemail.nl, Fabio Peta, Rolf Kappe, Bradley Scott Barker, pietercena@freemail.nl, John O'Keefe, Michael Yocom, C. Patrick Hreachmack, John Bradford, Mike Tricarico, Frank Roach, Eugenio Orsini , MLardas@ptxecrc.com, Barry Gerrard, gbuleca, Daniel McCarthy, Eugenio Orsini, Gordon G. Buttars, William Blackmer, Dave Mimms, Robert-H.Macdonald@ffi.no, Ramiro Cruz, Brooks A Rowlett, Ward C. Douglas, James/Linda Young, payneanthony@earthlink.net, edmunds@interpol.iem.gov.lv.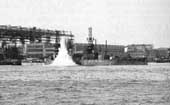 Mystery Picture #33
This photo shows the first U.S. Navy Dreadnought battleship, USS South Carolina (BB 26) being used as a test hulk in 1924. Like most early Dreadnoughts, she rapidly became obsolete, and was stricken in 1923 under the provisions of the Washington Treaty. Her hulk, stripped of turrets and fire-control tops to comply with the Treaty's demilitarization requirements, was used for tests prior to being scrapped. The hulk was fitted with experimental torpedo protection blisters on either side, and subjected to test explosions as seen here, off the Philadelphia Navy Yard. The results of these tests aided in the design of the blisters fitted on U.S. battleships in subsequent years.
Correct Answers were received from: Chris Cavas, Brooks Rowlett, Mike Green, Fabio Peta, Barry Gerrard, Dale Shantz, GBuleca@aol.com, Mike Potter, Dave Mimms.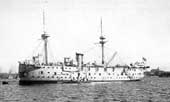 Mystery Picture #34
At first glance, this appears to be an old battleship or cruiser cut down for training purposes, this is not the case. She is the German training ship Mars, built in 1879 specifically for the training role. Accordingly, she carried a variety of guns and was a slow ship - 12 knots. She remained in service through 1914, then served as an accommodations hulk before being scrapped.
Correct Answers were received from: Brooks Rowlett, Tim Lanzendoerfer, Ingo Hohm.




Mystery Picture #35
This is the Japanese target ship, formerly battleship, Settsu. Although indended as one of Japan's first Dreadnought battleships, she was commissioned in 1912 as a semi-dreadnought with a mixed battery of 12"/50 caliber and 12"/45 caliber guns, due to shortage of the 12/50 pieces. She fell victim to the Washington Treaty, being converted to an unarmed radio-controlled target ship in 1924. She is seen here after her boilers and engines were replaced in 1940; only one of her three funnels is real. The old target ship was sunk in port by U.S. aircraft 24 July 1945; the hulk was salvaged and scrapped postwar.
Correct Answers were received from: Chris Cavas, Brooks Rowlett, Steve Alvin, Mike Potter, Siemon Wezeman, Rune Aasgaard, Mike Green, John Bradford, Ed Truitt, Patricio Meezs, Fabio Peta, Dwayne Nutting, Robert Macdonald, Tom Scott, Ingo Hohm, Dale Shantz.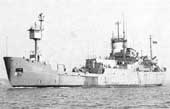 Mystery Picture #36
This odd-looking ship is USNS Mizar (T-AGOR 11), a special-mission ocean survey/"ocean engineering" ship. Mizar was commissioned in 1958 as an arctic cargo ship (AK 272). In 1964 she underwent a hurried conversion to an ocean survey ship to assist in the search for the sunken USS Thresher (SSN 593); she was redesignated AGOR 11. After locating Thresher, she underwent a more complete conversion to her new role and embarked on a long and interesting career. Mizar searched for and located a variety of sunken ships, craft and objects - among them Scorpion (SSN 589), the submersible Alvin (DSV 2) lost in 1968, the French submarine Eurydice lost in 1970, possibly the famous Soviet "Golf" class submarine lost in the Pacific in 1968, and the U.S. atomic bomb lost off Palomares, Spain in 1966. It is widely thought that she undertook many covert "ocean engineering" missions to support U.S. surveillance operations and the recovery of various sunken hardware of interest to the intelligence community.
Mizar was taken out of service in 1992 and is currently awaiting disposal. Her mission was transferred to the new USNS Waters (T-AGS 45), but funding for that ship's operation ran short soon after her completion. Waters has now been converted to take on the additional missions of missile range instrumentation and submarine navigation research support.
Correct Answers were received from: Brooks Rowlett, Kurt/SeaPhoto, Chris Cavas, Barry Lake, Dave Shirlaw, Stephen Keller, Mike Potter, James Corley, Paul Silverstone, Dwayne Nutting, Rick Gerou, William Vickrey, Barry Gerrard, Salvator Mercogliano.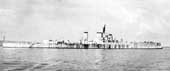 Mystery Picture #37
This is the British target ship, formerly battleship, HMS Centurion. Centurion, completed in 1913, was decommissioned in 1924 and converted to an unarmed target ship in 1927 under the terms of the Washington Treaty. She served as a gunnery target, as seen here, until 1941. She was then converted to superficially resemble the new King George V class battleships, and in 1942 made one voyage to India in this configuration. She then served as a stationary antiaircraft guardship until she was scuttled at Normandy 9 June 1944, where she formed part of an artificial harbor.
Correct Answers were received from: Chris Cavas, Brooks A Rowlett, Dan Frushour, Peter H. Granzeau, Ingo Hohm, John Bradford, Rune Aasgaard, Robert Macdonald, Mike Potter, Ragnar F. Süberkrüp, Mark Lawden, Tom Scott, Paul Silverstone, Barry Gerrard, Steve Alvin, Dale Shantz, Salvatore Mercogliano, Timothy Crick.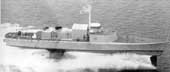 Mystery Picture #38
This is the Canadian experimental hydrofoil Bras D'Or (FHE 400). Launched in 1968, she was one of several experimetal high-speed vessels tried by several navies around that time. She ran trials in 1969-71, but like many craft of her type, she was very expensive to operate. Bras D'Or was laid up at Halifax from 1971 to 1982, then she was sold.
Correct Answers were received from: Dave Shirlaw, Kurt Greiner, Stephen Keller, John Moore, Pat Barnhouse, Jeff Lancaster, Chris Jones, Gary J MacDonald, William A. Ullmann, Patricio Meezs, Tom Scott, Mark Lawden, Robert Macdonald, David Nordenberg, John Wilson, Stuart Robottom, Barry Gerrard, Dave Mimms, Brooks A Rowlett, Antoni Casinos, C. Patrick Hreachmack.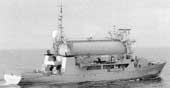 Mystery Picture #39
This is the Swedish electronic surveillance ship Orion (A201). Unlike many craft that have served in this role, she is purpose-built for her role. The huge plastic dome houses surveillance equipment.
Correct Answers were received from: Kurt Greiner, Ingo Hohm, Mats Kramer, Siemon Wezeman, Anders Svensson, Roger Britton, Jeff Lancaster, Dave Shirlaw, David Nordenberg, Timo Herrala, Stuart Robottom, Barry Gerrard, Brooks A Rowlett, Antoni Casinos.



Back to the Mystery Pictures Main Page
This section of the HG&UW site created and maintained by Andrew Toppan.
Copyright &copy 1997-2003, Andrew Toppan. All Rights Reserved.
Reproduction, reuse, or distribution without permission is prohibited.