Haze Gray Mystery Pictures 20 through 29
Answers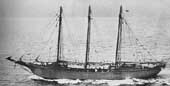 Mystery Picture #20
This is the "Q Ship" USS Irene Forsyte (IX 93), a WWII antisubmarine decoy ship. She was one of five such vessels employed during WWII, although the other four vessels were not sailing ships. The "Q Ships" were heavily armed, but appeared to be harmless freighters or sailing vessels. It was hoped that their innocent appearance would lure U-boats to the surface for an "easy kill"; they would then discard their false identity and attack the German submarine. The 5 WWII "Q Ships" encountered no success and the project was soon abandoned.
Irene Forsyte was built as the schooner Irene Myrtle in 1920; she was purchased by the Navy late in 1942 and commissioned early in 1943. On her first cruise she was nearly sunk by a hurricane, being forced to seek shelter at Bermuda. Storm repairs had just been completed when the "Q Ship" concept was dropped, ans she was promptly ordered back to the US. Decommissioned less than four months after commissioning, she was eventually sold in 1945.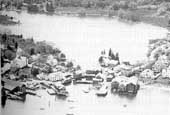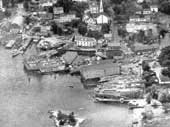 Mystery Picture #21
These photos show the Goudy & Stevens and Hodgdon Brothers shipyards in East Boothbay, Maine. The left view dates from 1936 and shows the wharf and three sheds of the Hodgdon yards at right. To the left, separated from Hodgdons by a millstream, lie the Goudy & Stevens yards. The right view was photographed circa 1953, and shows the yards during a period of joint management as Hodgdon Brothers, Goudy & Stevens. The Hodgdon yards are in the lower part of the view; the Goudy & Stevens yards above and to the left. Three 144' minesweepers are on the Hodgdon building slips, and three more lie at the wharf.
The Hodgdon family shipbuilding enterprise at East Boothbay dates to 1816 and continues to this day, surely one of the oldest shipbuilding operations in the US today. The Hodgdon yards are known for building schooners (both working vessels and yachts), small military vessels, and yachts; in recent years the family has worked from a new boatshop a short distance from this site, constructing custom luxury yachts of the highest quality.
The Goudy & Stevens yards were founded in 1920, taking over a shipbuilding site formerly used by the Adams family, and separately by the Reed & McDougall families before that. This yard built yachts and fishing vessels, and military craft in cooperation with the Hodgdons. The Goudy & Stevens enterprise failed in 1993-1994, and the yard lay abandoned until 1999, when it was purchased by the Hodgdon family, to expand their yacht-building business. Today the yard is being rebuilt, and will soon host construction of a 151-foot sailing yacht.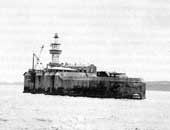 Mystery Picture #22
This appears to be a "concrete battleship", and indeed the installation was commonly known by that name. Formally named Fort Drum, this US Army installation was constructed on the small island of El Fraile in Manila Bay, Philippine Islands. The fortification was built in 1909-1919, and is probably seen shortly before completion (note the crane visible to the left of the "mast").
The fortress carried two naval-style turrets, designed and built by the Army, each mounting two 14 inch guns. Fort Drum also had two 6 inch guns in casemate mountings. The fort was 350 feet long and had 27 foot thick concrete walls. This nearly-impregnable fortress was the last effective US fortification in the Philippines at the time of the US surrender to the Japanese, 6 May 1942. It survives to this day, bearing scars of both Japanese and US bombardment during WWII.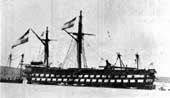 Mystery Picture #23
This is the Austro-Hungarian 91-gun steam ship-of-the-line Kaiser, showing damage from the Battle of Lissa in 1866. Laid down in 1855, Kaiser was the most powerful ship in the pre-ironclad Austro-Hungarian fleet. Although previously declared unseaworthy, she was repaired for service in the Seven Weeks War between Austria-Hungary and Prussia. During the Battle of Lissa in July 1866 she was set afire and rammed an Italian ship, causing the damage seen here.
By 1869 Kaiser was hopelessly obsolete but still in good condition, so on 2 February 1869 she was docked for conversion to a rigged casemate ironclad. Emerging in 1873 in vastly modified form, she served until 1902, when she was renamed Bellona and became an engineless accommodations hulk at Pola. She remained there through the end of WWI. Some sources indicate the ship was scrapped in 1920, but this is not confirmed.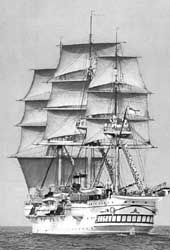 Mystery Picture #24
This is the German screw corvette Charlotte. Completed in 1886, Charlotte was the last fully-rigged German warship. After 11 years of active service she became a training ship, and was rebuilt 1903-1905 to extend her service in that role. Hulked in 1910, she was sold in 1921; her subsequent fate is not recorded.




Mystery Picture #25
This is the German radio-controlled target ship Hessen, formerly a predreadnought battleship. Launched in 1903, Hessen served in the German fleet until reduced to harbor guardship duties during WWI due to manpower shortages and the general obsolescence of her type. Despite her age, she was one of the most modern battleship available to the Germans after WWI; she was accordingly reactivated, along with her sisterships.
The four other ships of her class went to the breakers during the 1930's, but Hessen was converted to a target ship, as seen here. She survived WWII and went to the Soviet Union postwar, being renamed Tsel. Her fate is not known.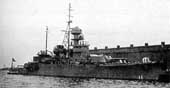 Mystery Picture #26
This is the Siamese (Thai) coast defense ship Dhonburi. This small (2265 tons) but modern vessel, and her sister Sri Ayuthia, were designed and built in Japan for Siam during the late 1930's, being completed in 1938. They each carried four 8 inch guns plus several AA weapons.
Both ships were sunk in action with French vessels 16-17 January 1941. The action was part of during a short-lived conflict with France; the conflict started 11/1940 and ended with an armistice signed 12 days after the ships were sunk. Both were raised late in 1941, but Dhonburi capsized and sank while en route to Japan for repairs. Her sister survived the tow to Japan, and was repaired and returned to Saim by the end of 1941, only to be lost in 1951 during a Siamese revolution. Both hulks were eventually raised and scrapped.




Mystery Picture #27
This is the Greek armored cruiser Averof, sometimes known as Georgios Averof. A near sister of the Italian Amalfi and Pisa, she was built on speculation and purchased by the Greek navy prior to her completion. She was named to honor the Greek millionaire who left the funds used for her purchase. She differed from her Italian half-sisters primarily in carrying four 9.2 inch guns, rather than 10 inch guns, and in having dreadnought-like tripod masts.
She was the most powerful unit of the Greek navy throughout her career. Escaping Greece in May 1941, she served on convoy escort duties until 1944, when she became a station ship in Greek ports. Stricken in 1946, she survives to this day as a museum.




Mystery Picture #28
This is USS Shaw (DD 373) early in 1942, fitted with a temporary bow. Shaw was at Pearl Harbor, docked in the floating drydock YFD-2 on 7 December 1941; she was hit by three Japanese bombs during the attack. The bombs set the ship afire and demolished her bridge. Despite valaint firefighting efforts, the blazes could not be controlled, even after the drydock was scuttled. When the fire reached Shaw's forward magazines they blew up, totally demolishing her bow.
The wrecked hulk was salvaged soon after the attack, and was fitted with the temporary bow shown here. Her mast had survived, but the bridge was entirely gone, and the diminutive temporary bow gave her a rather odd appearance. A temporary bridge was apparently built up on her aft deckhouse. She sailed for Mare Island on 9 February 1942. A new bow was fabricated and fitted to the ship; the repairs were completed by June, 1942. After extensive wartime service, Shaw was scrapped in 1946.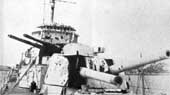 Mystery Picture #29
This is the Britsh heavy cruiser HMS Exeter following her 13 December 1939 duel with the German raiding cruiser Admiral Graf Spee (the Battle of the River Plate). Her bridge has been gutted and all her main armament disabled.
On 13 December 1939 the cruisers Exeter (8 inch gun), Ajax (6 inch guns) and Achilles (6 inch guns), on a raider-hunting mission in the South Atlantic, found their raider, the German Graf Spee. The German ship - commonly known as a "pocket battleship" for her 11 inch guns, but truly a specialized type of cruiser - should have been more than a match for the British ships. But in a pitched battle, the British managed to seriously damage Graf Spee while taking significant damage themselves. All three British ships were damaged, Exeter so severely that she had to turn away to make emergency repairs.
Admiral Graf Spee also turned away from battle, fleeing at high speed for Montevideo, Uraguay, where she sought shelter to carry out her own repairs. The two remaining battle-worthy British ships blockaded the port, and the heavy cruiser HMS Cumberland raced up from the Falklands to replace the wrecked Exeter. Three days later, forced by international law to leave neutral Ugaguayan waters, and believing the British force to be much stronger than it was, Admiral Graf Spee blew herself up in the Rio de la Plata.
Exeter was soon repaired but was lost to the Japanese during a desparate action in the early days of WWII in the Pacific. Cumberland became a trials ship postwar and survived through 1959. Ajax was scrapped in 1949. Achilles went to India in 1948 as Delhi and played her own part in the 1953 movie Battle of the River Plate (Graf Spee was played by USS Salem, and Cumberland played Exeter's part); Delhi was discarded in the late 1970's.



Back to the Mystery Pictures Main Page
This section of the HG&UW site created and maintained by Andrew Toppan.
Copyright &copy 1997-2003, Andrew Toppan. All Rights Reserved.
Reproduction, reuse, or distribution without permission is prohibited.