Haze Gray Mystery Pictures 10 through 19
Answers

Mystery Picture #10
I admit, this is a very tough puzzle. This is a view of the Italian dockyard at La Spezia, circa 1943. The ship in the background is the Italian cruiser Bolzano. She was torpedoed in 1942, and the resulting fire has mangled the superstructure, rendering her nearly unrecognizable. No doubt dockyard demolition of damaged structures has contributed to her altered appearance. Repair plans came to nothing, and the cruiser's hulk fell into German hands when Italy went over to the Allied side. She was later sunk by Italian 'chariots'.
The submarine in the drydock is U-73, a rare Type VIIB boat. This is the submarine which sank HMS Eagle 11 August 1942; the sub was herself sunk late in 1943. The escort-type vessel at left is believed to be an ex-French La Flore class vessel.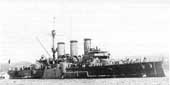 Mystery Picture #11
This is the Italian armored cruiser Amalfi. She and her sister Pisa were members of the last generation of large, powerful armored cruisers. The Greek Averof was a near-sister of this pair. Amalfi was sunk by the German U26 (masquerading as the Austo-Hungarian UB 14) 7 July 1915.




Mystery Picture #12
This is the Royal Navy torpedo boat depot ship HMS Vulcan. This ship was built to a cruiser-like design; she was fitted to carry and service 6 second-class torpedo boats. Launched in 1898, she served as a submarine depot ship after torpedo boats were rendered obsolete, and survived until 1955 as a training hulk.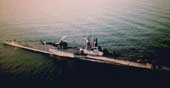 Mystery Picture #13
This is USS Sealion (APSS 315) off Little Creek, VA on 4 May 1956, with an H-19 helicopter on deck. Originally a WWII "fleet boat", Sealion served in various troop-carrying configurations postwar, including special forces transport. She carried several designations: SS, SSP, ASSP, APSS, and later LPSS.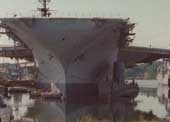 Mystery Picture #14
The large ship at center is fairly easy to identify; she is the carrier Midway (CV 41) in the mothball fleet at Bremerton, WA. The submarine on her port side is more interesting, and more difficult to identify. She is Sailfish (SS 572, ex SSR 572). Although stricken from the NVR in 1978, she is still stored in the Bremerton mothball fleet. The old sub was advertised for scrap sale in 1995, but was not sold.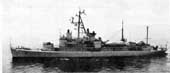 Mystery Picture #15
This is the command ship USS Valcour (AGF 1). Commissioned in 1946 as a small seaplane tender (AVP 55), she was one of three such ships which served as Persian Gulf/Middle East command ships in the postwar years. She was redesignated AGF 1 in 1965, and served until 1973, when she was replaced by USS La Salle (AGF 3). This ship was one of several Barnegat class AVPs adapted for auxiliary roles, including survey, research, patrol, and command/flagships.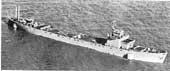 Mystery Picture #16
This odd ship is MSS 1, formerly the Libery Ship Harry L. Gluckman, converted to a "special minesweeper". Her hull was completely gutted, and she was fitted with diesel propulsion in outboard "pods". A shock-hardened pilothouse was fitted. She was intended to sweep pressure mines by detonating them with the pressure wave generated by her hull; had to be completely "mine proof" for this duty. She was intended for Vietnamese waters.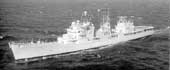 Mystery Picture #17
This un-named, un-numbered ship is the former USS Decatur (ex-DDG 31/ex-DD 936). Although stricken in 1988, the ship (commonly referred to as "ex-Decatur") now served as a self-defense trials platform. Fitted with Sea Sparrow and RAM missiles, a Phalanx CIWS, and the SLQ-32(V)3 EW system, she is subjected to live missile firings to test the next generation of integrated ship self defense systems. She was commissioned as a gun destroyer (DD 936) in 1956 and recommissioned as a DDG in 1967, following extensive conversion.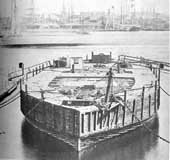 Mystery Picture #18
This is the hulk of the Civil War-era monitor Miantonomoh, lying at Boston in 1874. Commissioned in 1865, she was the first of four large "coastal" monitors, some of the few successful monitors of her day. Despite her low freeboard, she managed to cross the Atlantic (in tow) in 1866. Decommissioned in 1870, she was laid up at Boston. In 1874, as part of a general cleanout of obsolete, wooden-hulled Civil War monitors, she was stripped and scrapped. In this view she has been completely stripped to the bare hull, and is probably being made ready for tow to the shipbreaker's yard.
Miantonomoh's story, however, does not end here. In order to get around restrictions on construction of new ships, the Navy "repaired" Miantonomoh, her three sisters, and a larger, never-completed monitor of similar vintage. These "repairs" amounted to construction of entirely new vessels, while the old hulls were given to the shipbuilders as partial payment for the new construction, subsequently being scrapped. Even as Miantonomoh lay at Boston in this view, her "repaired" steel hull was being built at the Roach yard in Chester, PA. She remained under construction at that yard until 1882, when she was transferred to New York Navy Yard for completion, which took until 1891. The "repaired" vessel, although completely obsolete and totally useless as a warship, surived until the 1920's.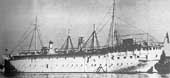 Mystery Picture #19
This is USS Reina Mercedes (IX 25), a barracks/accommodations ship moored at the US Naval Academy at Annapolis, MD. Reina Mercedes was launched for the Spanish Navy in 1887. She was serving with Spanish forces in Cuba when the Spanish-American war broke out, and was eventually scuttled in port. She was captured by US forces when Santiago fell, and was salvaged in 1899. The vessel moldered in various US Naval Shipyards until 1905, when she became a receiving ship. In 1912 she moved to Annapolis, replacing the old frigate-turned-barracks Santee, which had sunk at her moorings. Reina Mercedes remained at Annapolis as a barracks ship for the remainder of her career. In 1957 she was sold for scrapping when it was determined that essential repairs on the ancient ship would be too expensive.
Many people mis-identify this vessel as the old frigate Santee (laid down 1820, commissioned 1861), which served in a similar role at Annapolis from 1865 to 1912. Another common error has been identification of this ship as one of the US Ships of the Line which served as receiving ships in their later years.



Back to the Mystery Pictures Main Page
This section of the HG&UW site created and maintained by Andrew Toppan.
Copyright &copy 1997-2003, Andrew Toppan. All Rights Reserved.
Reproduction, reuse, or distribution without permission is prohibited.