Haze Gray Mystery Picture #98 Answer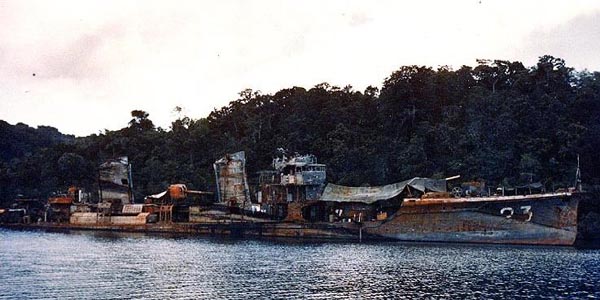 Can You Identify This Ship?
This is the Japanese destroyer Kikuzuki after she was salvaged by the US Navy.
Kikuzuki, a Mutsuki class destroyer, was built by Maizuru Dockyard, commissioning in November 1926. She was sunk by aircraft from USS Yorktown on 4 May 1942 in Halavo Bay, Florida Island, near Tulagi. In 1943 the US Navy salvaged Kikuzuki, hoping to gain valuable information about Japanese equipment. After being refloated, she was towed to nearby Purvis Bay and allowed to sink in shallow water, as seen in this photo. Kikuzuki's deteriorated hulk can still be seen today.
Correct answers were received from: Patricio Meezs R., Kurt Greiner, Raymond Zhu, Mark Thomas, Kelly Jernigan, Czéh György, William J Bollinger, Janne J. Honkala, Michael Drews, Andrew Kovach, Joe Donahoe, Mike Green, David Wyckoff, Tom Wyckoff, Axel Reif, Ed Taillon, Joaquin Kovach, Brian Viglietti, Edward Gradek, Dave Mimms, David Wadsworth, Vladimir Andreev, Rune Aasgaard, Adm. Gurita, Brooks A Rowlett, Joseph Chase, Mike Penny, Johannes Ritter, Visje, Chris Preston.

Back to the Mystery Pictures Main Page
This section of the HG&UW site created and maintained by Andrew Toppan.
Copyright &copy 2003, Andrew Toppan. All Rights Reserved.
Reproduction, reuse, or distribution without permission is prohibited.