Haze Gray Mystery Picture #93 Answer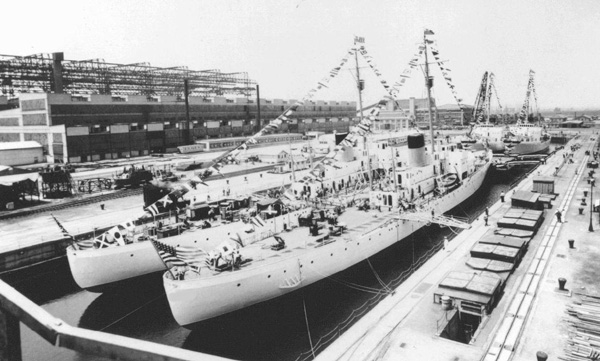 Can You Identify These Ships?
These are the Coast Guard Cutters George W. Campbell (WPG 32), William J. Duane (WPG 33), Samuel D. Ingham (WPG 35), and Roger B. Taney (WPG 37).
These four "Secretary" or "Treasury" class cutters were built simultaneously, in the same drydock, at the Philadelphia Navy Yard; their keels were laid on 1 May 1935. The photo shows the ships at their multi-ship launching ceremony, on 3 June 1936. Their names were shortened to surnames only in 1937. Early in WWII they served as convoy escorts; later in the war they served as amphibious force flagships, and postwar they returned to Coast Guard duties. All served into the 1980's, decommissioning between 1982 and 1986. Taney and Ingham survive as museums; Campbell was sunk as a target, and Duane was scuttled as a reef.
Correct answers were received from: Howard Koch, Barry Lake, Kevin J. Foster, William Vickrey, Joe Donahoe, Alvin H. Grobmeier, Mike Green, William J.Cooke, Stewart McArthur, Michael Walling, Mark Stockwell, Michael Zuschlag, Byron P. Connell, Mike Barclay, James Corley, William F. Fesenden, Don Campbell, Jim Taylor, Stuart Miller, James R. Swank, Kelly Jernigan, Douglas Peterson, Jim Mason, Espen Arnestad, John Bradford, Rick Barton, Lou Colella, Brooks A Rowlett, John H. Murdock, Grant E Buehrer, Dwayne Nutting.
Photo Credit: Photo provided by C. Patrick Hreachmack

Back to the Mystery Pictures Main Page
This section of the HG&UW site created and maintained by Andrew Toppan.
Copyright &copy 2003, Andrew Toppan. All Rights Reserved.
Reproduction, reuse, or distribution without permission is prohibited.