Haze Gray Mystery Picture #91 Answer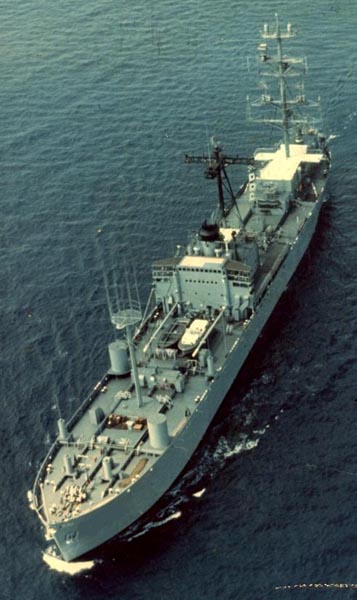 Can You Identify This Ship?
This is the "technical research" ship USS Oxford (AGTR 1).
Oxford was one of five WWII-era freighters (three Liberty Ships and two Victory Ships) converted to electronic surveillance ships and euphemistically classified as "technical research ships". The basic Liberty Ship configuration is unmistakable, but the numerous antennae offer a clue to the ship's true function - and their unique configuration distinguishes this ship from her sisters. The most famous of the AGTRs was Liberty (AGTR 5), which was attacked by Israeli forces in 1967. The AGTRs were the "big sisters" to the smaller "environmental research ships" (AGERs), including the infamous Pueblo.
Correct answers were received from: Kurt Greiner, Dave Mimms, Howard Koch, Lee Ilse, Barry Gerrard, Brooks A Rowlett, Gunter Krebs, Mike Potter, Daniel Ferro, Willliam J. Cooke, Bill Marshall, Jim Anderson, Warren Cochrane, Czéh György

Back to the Mystery Pictures Main Page
This section of the HG&UW site created and maintained by Andrew Toppan.
Copyright &copy 2003, Andrew Toppan. All Rights Reserved.
Reproduction, reuse, or distribution without permission is prohibited.