Haze Gray Mystery Picture #90 Answer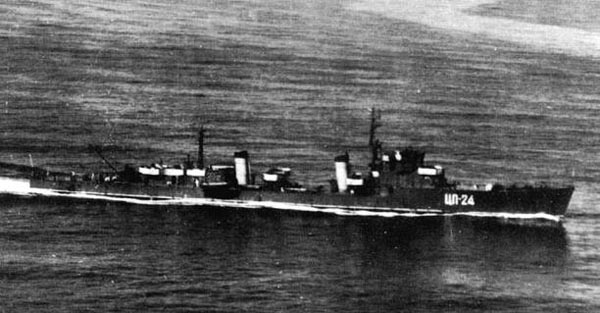 Can You Identify This Ship?
This is the Soviet auxiliary TSL-24, formerly the Japanese escort destroyer Hatsuzakura.
Hatsuzakura, completed in May of 1945, was a member of the Tachibana class. She saw brief service in the closing days of the war, and was one of the few Japanese warships in operational condition at the time of the surrender. In the postwar years she served as a repatriation ship. Hatsuzakura was surrendered to the Soviets in 1947 and placed in Soviet service as Vyrazitelnyy. Eventually reduced to reserve, she was returned to service in 1959 as a torpedo retriever and target ship with the name/designation TSL-24. She remained in service until the mid-1960's, but her final fate is unknown.
Correct answers were received from: Mike Potter, Aleksander Jaworski, Robert Drysdale, Timothy Crick, James T. Flynn, Jr., James Wade, Brooks A Rowlett, Byron Duhe, Ian Evans, Brian Viglietti, Czéh György.

Back to the Mystery Pictures Main Page
This section of the HG&UW site created and maintained by Andrew Toppan.
Copyright &copy 2003, Andrew Toppan. All Rights Reserved.
Reproduction, reuse, or distribution without permission is prohibited.