Haze Gray Mystery Picture #149 Answer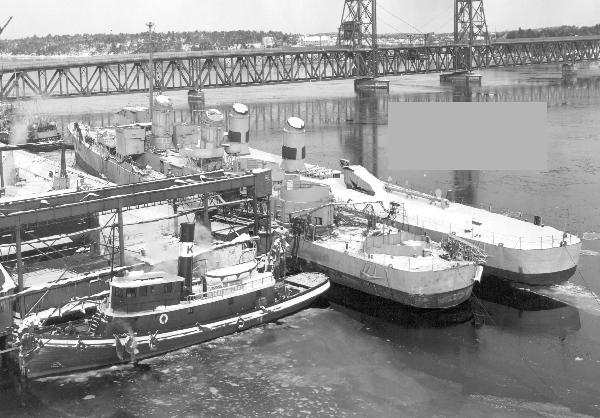 Can You Identify These Ships?
These are the incomplete Gearing-class destroyers Epperson (DD 719) (left) and Robert A. Owens (DD 827) at Bath Iron Works, January 1948. The old steam tug Sequin, a long-time resident on the Kennebec River, is in the foreground.
Both destroyers were left incomplete at the end of WWII and were laid up for possible future use. Owens had been built at Bath, delivered incomplete in 1946, and towed away for layup; Epperson was built at Federal Shipbuilding. Both were brought to Bath for completion as prototypes for future modernizations. Owens became a hunter-killer destroyer (DDK) to hunt submarines, while Epperson was completed as an escort destroyer (DDE). Both were completed in 1949 and served the US Navy for many years. Owens was transferred to Turkey in 1982; Epperson went to Pakistan in 1977. Both were finally discarded in the late 1990's, among the last Gearing-class ships in service.
Many people thought one of these ships was the destroyer Timmerman. Although Timmerman was another experimental destroyer built at BIW just after WWII, she was launched in a relatively complete state, and was not laid up incomplete like these ships. Her construction had been temporarily suspended while still on the ways, but resumed before launch.
Correct answers were received from: James T. Flynn, Jr., Ssor Mac, Chris Estes, Eric Malain, Howard J Koch, Tim Hogan, Joe Donahoe, Dennis O. Curtis Sr., L. Westerman, Ed Schweikart, Bob Harmer, Bill Marshall, Barry Gerrard, Chris Woodyard.
The following people correctly identified the tug Sequin, in addition to the destroyers: James T. Flynn, Jr., Chris Estes, Eric Malain, L. Westerman, Bob Harmer.

Back to the Mystery Pictures Main Page
This section of the HG&UW site created and maintained by Andrew Toppan.
Copyright &copy 2003, Andrew Toppan. All Rights Reserved.
Reproduction, reuse, or distribution without permission is prohibited.