Haze Gray Mystery Picture #143 Answer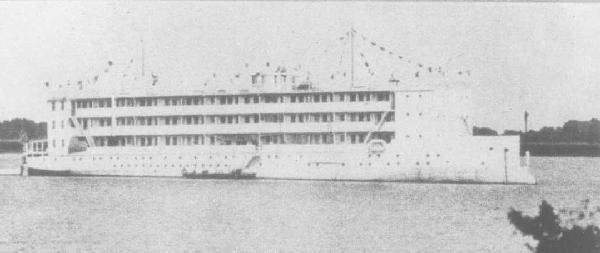 Can You Identify This Ship?
This is the former monitor Amphitrite as a hotel between WWI and WWII.
Amphitrite was one of the "New Navy" monitors ordered in the 1870's. Although officially considered a "repair" of a Civil War-era monitor of the same name, the vessel was actually new construction. She was built at Harlan & Hollingsworth, Wilmington, DE, between 1874 and 1883; the incomplete hull was then transferred to Norfolk Navy Yard for completion. Amphitrite was finally commissioned in 1895 after 21 years under construction.
By 1895 the era of seagoing monitors was long over, and Amphitrite spent most of her career alternating between roles as a training ship, station ship, and guard ship, with periods in reserve. She did see some combat during the Spanish-American War, bombarding San Juan on 12 May 1898. The old monitor was decommissioned for the last time in 1919 and was sold the following year.
Amphitrite's new owners carried out an extensive conversion as shown here. Virtually all traces of the monitor's original configuration were erased, and she was transformed into a floating hotel and casino. Her service to the government was not completed, however, as she was chartered for wartime service as a barracks ship at Elizabeth City, NC. Postwar she was moved to Maryland for service as a floating restaurant and hotel, but this plan fell through and the vessel was sold in 1951. A later plan to convert the hull as an oil exploration support ship was not carried out, and by early 1952 the ancient monitor's hull had been scrapped, 79 years after her keel was laid.
Correct answers were received from: Ric Pelvin, Art Niemoller, Marc Nucup, Paul Silverstone, John Hendershot.

Back to the Mystery Pictures Main Page
This section of the HG&UW site created and maintained by Andrew Toppan.
Copyright &copy 2002, Andrew Toppan. All Rights Reserved.
Reproduction, reuse, or distribution without permission is prohibited.