Haze Gray Mystery Picture #140 Answer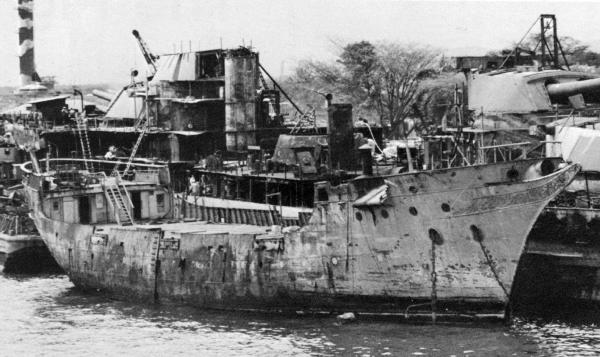 Can You Identify This Ship?
The ship in the foreground is the sludge removal barge YSR 42, formerly the sail training ship Intrepid. Although her rig is gone and the upper decks have been cut down, the distinctive ornamentation on her bow and the arrangement of hawsepipes and ports confirms the hulk's identity. In a larger version of the photo her name can still be seen on the bow.
Intrepid was built by Mare Island Navy Yard and commissioned in 1907. The training ship operated from Yerba Buena Training Station, San Francisco, until 1912, but her career as a seagoing ship was short, because she sailed poorly. Intrepid was soon reduced to harbor duties as the receiving ship at Yerba Buena from 1912-1914, then at Mare Island, and from 1915-1920 she was the barracks ship for Pacific Fleet submarines, still at Mare Island. Intrepid was decommissioned 30 August 1921 and sold into private interests in Hawaii, 20 December 1921.
Intrepid's activities from 1921 to 1941 are unknown, but her new owner apparently made few changes to the old ship. In 1941 Intrepid was reacquired by the Navy as a barge, designated YF 331, and stationed at Pearl Harbor. After the attack she was redesignated as a sludge removal barge, YSR 42, to support the salvage operations. At the end of the war YSR 42, ex-Intrepid, was returned to her previous owner. The hulk was wrecked on the Washington coast in 1954, although some sources indicate she was eventually scrapped at Honolulu.
The ship in the background is the battleship Oklahoma, a victim of the Pearl Harbor attack. Oklahoma had capsized during the attack, but was turned upright in 1943 and refloated 28 December 1943. The ship was drydocked for temporary repairs early in 1944, and by late 1944 had been totally stripped of all guns and superstructure. Thus this photo was taken sometime in 1944, before stripping was completed. Note that the guns of #2 turret have already been removed, but the other remain. The photo was obviously taken at Pearl Harbor, since Oklahoma never reached another port after her salvage.
Correct answers were received from: Jim Klinger, Kenji Nozaki, Hunt Lewis, Barry Gerrard.

Back to the Mystery Pictures Main Page
This section of the HG&UW site created and maintained by Andrew Toppan.
Copyright &copy 2002, Andrew Toppan. All Rights Reserved.
Reproduction, reuse, or distribution without permission is prohibited.