Haze Gray Mystery Picture #108 Answer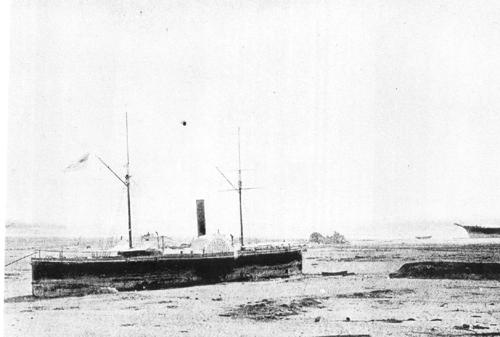 Can You Identify This Ship?
This is the sidewheel gunboat USS Wateree wrecked at Arica, Peru, in 1868.
Wateree was one of the many shallow-draft sidewheel gunboats constructed during the US Civil War. She was somewhat unusual, however, in that she was of iron constrution, rather than the wooden construction of her contemporaries. Although built for coastal and riverine service and considered poorly suited for service at sea, Wateree was assigned to the Pacific Squadron upon commissioning in 1864. Her first 10 months in service were spent making the difficult voyage from Philadelphia to San Francisco via Cape Horn. She spent the next four years patrolling along the Central and South American coasts. She met her end in this service, while anchored at Arica, Peru on 15 August 1868. A massive earthquake hit the region and caused huge tidal waves, which devastated the anchorage and carried the gunboat nearly 500 yards inland, as seen here. Wateree was evaluated as "badly strained" and damaged beyond economical repair and was sold in November 1868. The hulk was apparently converted to an inn where it lay, but presumably the wreck was eventually broken up.
Correct answers were received from: Kevin J. Foster, Christopher Olson, Yves Grangeon, Bill Rhodes, Scott E. Brauer, David Briedis, Steve Hissem, Russ Frevele, Per Provencher, J Thomson, Dominic Zupparo, Art Niemoller, Commander Michael J. Fitzgerald, John Bradford, Brian Viglietti, C. Patrick Hreachmack, Ed Taillon, Brooks A. Rowlett.

Back to the Mystery Pictures Main Page
This section of the HG&UW site created and maintained by Andrew Toppan.
Copyright &copy 2003, Andrew Toppan. All Rights Reserved.
Reproduction, reuse, or distribution without permission is prohibited.