Haze Gray Mystery Picture #103 Answer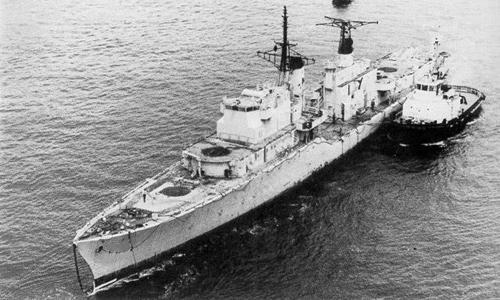 Can You Identify This Ship?
This is the former Australian destroyer Vendetta (D08) being towed away for scrapping in 1987.
Vendetta was one of three modified HMS Daring class destroyers built for the RAN shortly after WWII. A fourth ship was acquired second-hand from the RN, to replace one of the trio sunk in a collision. Vampire and Vendetta were both refitted in the early 1970's, acquiring the new bridge and second mast seen here. The former RN ship, Duchess, was not modified to the same extent, and was paid off for disposal in 1979. Vampire was preserved as a museum in 1985, and two years later Vendetta was towed to a Chinese shipbreaker.
Correct answers were received from: Kevin McCarthy, James T. Flynn, Jr., Yves Grangeon, Ryder Gray, Patricio Meezs R., Anthony Vella, Rob Locke, Giorgio Malfanti, Gerard Fergusson, Brooks Rowlett, J.E. Pflanz, Mike Penny, John Jeremy, Nick Lowe, Mark James, Mark Schweikert, Gavin Dean, Bruce T. Swain, Robert Labrenz.

Back to the Mystery Pictures Main Page
This section of the HG&UW site created and maintained by Andrew Toppan.
Copyright &copy 2003, Andrew Toppan. All Rights Reserved.
Reproduction, reuse, or distribution without permission is prohibited.