Haze Gray Mystery Picture #102 Answer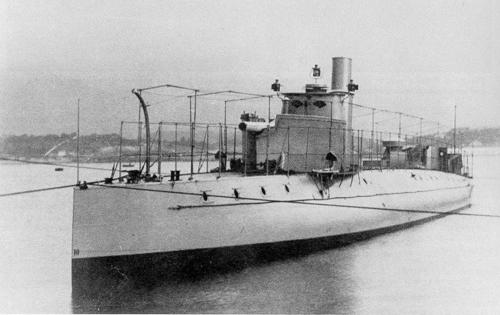 Can You Identify This Ship?
This is the French gunboat Gabriel Charmes.
Gabriel Charmes was conceived by her namesake as the prototype for a fleet of "fast gunboats" - torpedo boat-sized vessels each carrying two cruiser-sized guns. The vessel was authorized in April 1886 and went to sea in September 1886. She was named in October 1886, following Gabriel Charmes' untimely death. Gabriel Charmes was 42 feet in length, displaced 73 tons, and carried a single 5.5 inch gun. She carried out trials during February and March 1887, but was deemed to be unsatisfactory. Charmes' death, coupled with the departure of an influential Admiral who had supported the concept, lead to the desmise of the "fast gunboat" idea in 1887. The odd little gunboat was converted to a torpedo boat by August of 1887 and was renamed No. 151. She was finally stricken in 1907.
Correct answers were received from: Paul Silverstone, Martin-Desbois Jacky, Ian M Synge, Yves Grangeon, Espen Arnestad, Wolfgang Hopf.

Back to the Mystery Pictures Main Page
This section of the HG&UW site created and maintained by Andrew Toppan.
Copyright &copy 2003, Andrew Toppan. All Rights Reserved.
Reproduction, reuse, or distribution without permission is prohibited.