Haze Gray Photo Feature

Maine's Last Big Schooners

Abandoned in the 1930's, these ships lasted into the 1990's.
During the late 1800's and the early decades of this century, ports along the northeastern U.S. coast, and especially the Maine coast, were filled with hundreds of schooners. Today these vessels, coastal and deep-sea workhorses for decades, are all but gone. A few of the smallest schooners, two-masters, survive in charter fleets and museums. The three masters are gone, save for a few isolated examples which do not represent the traditional "downeast" schooners.
Of the really big schooners - the four, five and six masters designed primarily for the coal trade and predominantly constructed in Maine - virtually nothing remains. In their day, these were truly queens of the east coast. The largest of the wooden schooners, the giant six-masted Wyoming, could carry 6,000 tons of coal, yet operated with a crew of only 13. Despite their effeciency, steamships drove the schooners from the seas. Many of the big schooners were abandoned in coves and backwaters along the Maine coast as traffic dropped of during the 1920's and 1930's. Today only a few splintered wrecks and bones remain to remind us of these great ships. This feature documents the demise of those last few big schooners, the last representatives of a lost age.
Credits: Black & white photos from the collection of Andrew Toppan; all color photos by Andrew Toppan except as noted. Historical data from The Last Sail Down East (Giles M.S. Tod, 1965).
For more information and photos of six masted schooners, vistit The Glamorous Six Masters.

The Wiscasset Schooners
The four-masted schooners Hesper and Luther Little were laid up at Wiscasset in 1932. Here they remained, rotting and becoming tourist attractions, until thier hulks had deteriorated into eyesores. In 1998 they were demolished.
Luther Little was built in 1917 at by Read Brothers Co., Somerset, MA. She worked both in a coastal and deep-water trades early in her career. In 1920 she grounded in Haiti, remained stuck for two weeks, and nearly became a loss. In the end she was gotten off without serious damage. By the mid-1920's the 1234 ton (GRT) schooner was laid up. In June of 1932 she was auctioned to a Mr. Frank Winter, who had her towed to Wiscasset and laid up alongside the railroad wharf. She never moved again.
Hesper was built by Crowninshild Shipbuilding, South Somerset, MA. Her career started poorly, as the launching ways collapsed beneath her on launching day, 4 July 1918. New ways were built and she finally reached the water on 23 August. The 1348 ton (GRT) schooner made several lengthy voyages, including runs to Spain and Venezuela. In 1925 she grounded while entering Boston and required nine tugs to free her. Sometime in the following years she was laid up at Rockport, Maine. In January of 1928 she got loose in a storm, demolished a wharf, and landed on the beach. She was hauled off and eventually ended up in Portland, still laid up. In June of 1932 she was sold to Frank Winter for $600. She was towed to Wiscasset, arriving 1 September 1932 to join Luther Little.
Mr. Winter had purchased the schooners, and the insolvent Wiscasset, Waterville and Farmington narrow-gauge railroad, to operate a Boston-to-Wiscasset coal and lumber business. The schooners would bring coal north to Wiscasset and return south with lumber, while the railroad shuttled coal and timber between Wiscasset and interior points in Maine. Sadly, this plan never became a reality, due to Mr. Winter's untimely death. Both the railroad and the schooners were abandoned where they lay.
Time soon began to tell on the old schooners, and Hesper's masts were cut down around 1940. Her aft deckhouse was burned to celebrate the end of WWII; her forward deckhouse met a similar fate in 1978. Fire was a continual threat to these ships, and they both suffered numerous fires. Firefighting was nearly impossible due to the ships' inaccessibility, but the Wiscasset Fire Department made a valiant effort each time. To the delight of tourists, the ships retained their shape for many years. Each year the hulks were a bit more run down, but through the 1980's they were still recognizable as ships.
In the early 1990's the elements finally took control over the hulks. One winter saw Hesper's hulk disintegrate into an unrecognizable mound of debris. A storm in 1995 took Luther Little's remaining masts, and the rest of her hull began to collapse. Around this time talk of "preservation", a constant issue for many years, came to the forefront. Before anything could be down, however, Luther Little's hull finally gave up and collapsed into a heap of debris. With the ships reduced to unsightly piles of rubble, there was little choice but to demolish the wrecks. This work took place in the spring and early summer of 1998. Certain items from the ships - masts, hardware, and identifiable wooden items - were saved, but the rest was dredged out of the river and hauled away to be dumped. Maine's most famous schooners had ceased to exist.
---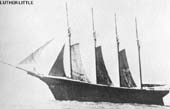 Luther Little at sea, without cargo and with minimal sail set.
---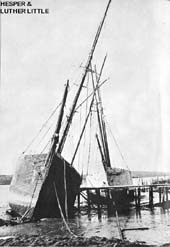 Hesper (left) and Luther Little in their final berth. This photo was probably taken in the late 1930's. Both ships are relatively intact, but Hesper's spanker (4th) topmast has broken, and her mizzen (3rd) mast is out of position.
---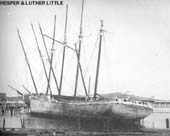 Another view of the two hulks (Luther Little nearer the camera), taken around the same time as the view above. Hesper's broken masts are clearly visible, and Luther Little's spanker topmast is down, standing on deck just ahead of the mast.
---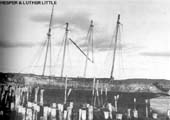 A later view of the hulks, probably from the 1960's. Hesper's masts are gone, and Luther Little's stern is rapidly disintegrating.
---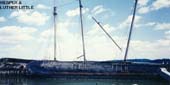 The schooner hulks in July of 1989. Luther Little retains three masts, but her bow has started to collapse. Hesper is but a barren, burnt hulk.
---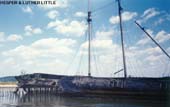 A view of the ships' bows, July 1989.
---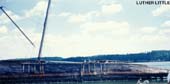 Luther Little's badly deteriorated stern, July 1989.
---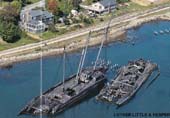 An overhead view of the hulks, circa 1994. Hesper's hulk has finally collapsed into a pile of debris; Luther Little's stern is gone and her bow is going fast. The sharp-eyed observer will notice some rust-colored hardware at the base of Luther Little's mizzen mast; similar hardware on her mainmast is less visible. These steel braces represent an last-ditch attempt to support her masts and delay their demise. Despite these measures her masts fell in 1995. This photo is from a Maine Coast Railroad advertising booklet; the railroad's station is just out of view to the left.
---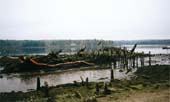 Hesper's remains as seen on 3 May 1998. The debris resembles a rotted wharf more than it does a ship. An orange containment boom, meant to catch floating debris during the demolition operation, lies across her hull at low tide. Luther Little's remains have already been removed; a few of her beams project from the mud to the right of Hesper.
---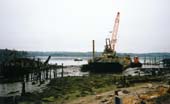 Demolition work in progress, 3 May 1998. The empty space between the barge and Hesper's remains was Luther Little's final resting place; a few of her bones can be seen projecting from the muck.
---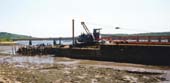 Four weeks later, on May 31st, Hesper is mostly gone. Only the forward one-third of her hull remains, and can be seen projecting beyond the dredge barge.
---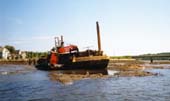 Another view of the work in progress, 31 May 1998. The containment boom in the muck to the right of the barge outlines Hesper's final berth.
---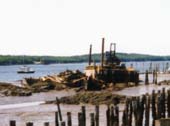 The rubble of Hesper's bow beside the dredge barge, 31 May 1998.
---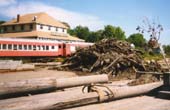 A pile of Hesper debris dumped ashore, waiting to be hauled off. The stench of this rotting mound of trash was enough to discourage all but the hardiest of the sourvenier-seekers. Luther Little's masts lie in the foreground. 31 May 1998.
---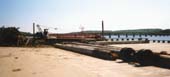 Luther Little's masts awaiting transportation to safe storage. Three lower masts and a single topmast were saved. 31 May 1998.
---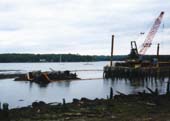 One week later, on 4 June 1998, virtually nothing remains of Hesper. Only a small section of her bow projects above the river's waters.
---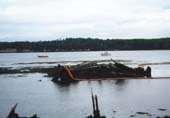 A closeup of Hesper's final remains.
---
The Boothbay Schooners
During the 1930's, Mill Cove, a shallow backwater of Boothbay Harbor, was a popular layup location for large schooners. At least five large schooners, and probably several more, spent years in Mill Cove, awaiting their fates. The bones of two big schooners are still there.
Courtney C. Houck was a 1627 ton (GRT), five-masted schooner built in Bath, Maine in 1913. She was laid up at Boothbay around 1930, and never returned to service. Her rotted hulk was auctioned for scrap in 1937, selling for $255. She was stripped where she lay and the hulk left to rot. Edna M. McKnight was a 1326 ton four-master built in 1918 at Camden. She met her end in 1926, when she was caught by a powerful storm off the Virginia coast while heavily loaded with lumber. Her seams opened, her canvas was shredded, and she seemed in danger of breaking up. Her crew was taken off by a passing steamer on 7 December; the hulk was allowed to drift off. On the 28th of the month she was relocated, and tug dispatched to bring her into Bermuda. By September of the next year the hulk had reached Boothbay Harbor for repairs. However, she was judged not worth repairing and was cast away to rot in Mill Cove.
In 1945 both old schooners were set afire to celebrate the end of WWII. At least one of the hulks burned to the water, but the other survived relatively intact. Local lore indicates three hulks, not two, were burned in 1945. Research has not yet revealed the identity of the third vessel. The third vessel is reported to have been much smaller than the other two; it probably would have gone to pieces more quickly than the bigger craft. The bones in the harbor muck do show some signs that a third vessel might have been present.
Zebedee E. Cliff, Maude M. Morey and Freeman, all four-masters, were laid up at Boothbay starting in the late 1920's. Morey and Cliff laid there until 1941, when they were towed to Portland for possible reactivation. However, the government purchased the hulks and scuttled them as a breakwater in the outer harbor. Both hulks were later burnt. Freeman stirred from the muck in 1940, only to become a barge operating from Halifax, Nova Scotia. She lasted through 1947 but was scuttled offshore soon thereafter.
---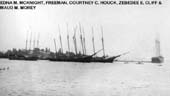 Five schooners in Mill Cove, late 1930's. The mastless hulk at far left is Edna M. McKnight; Freeman is beyond her along the shoreline. The five-masted Courtney C. Houck is at center, with Zebedee E. Cliff alongside beyond her. Maude M. Morey is at right.
---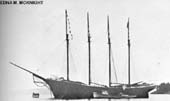 Edna M. McKnight just after her launching in 1918.
---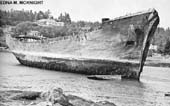 Edna M. McKnight's deteriorated hulk in the mud of Mill Cove, in the late 1930's She has been completely gutted.
---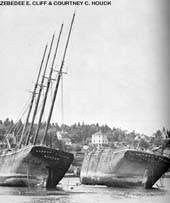 Zebedee E. Cliff (left) and Courtney C. Houck in Mill Cove, late 1930's. Cliff will stir from this berth once more, but Houck is in her final resting place. She has been stripped, but not gutted to the extent of McKnight.
---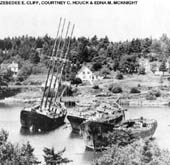 Cliff, Houck and McKnight (l-r) in Mill Cove. This photo was taken around the same time as the two above. The extent of the ships' deterioration is evident.
---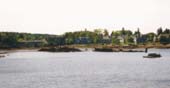 The Mill Cove Schooners as they appear today (31 May 1998). Edna M. McKnight's remains are the pile of rubble at left; Courtney C. Houck is represented by the smaller pile at left. Through the 1980's McKnight's hulk had remained in recognizable form, but is now reduced to bones and rubble.
---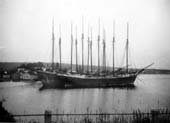 Three schooners in Mill Cove, 1930's. This photo is somewhat of a mystery, as it cannot be matched against what is known about the various schooners laid up in Mill Cove. No records have been found indicating when three four-masted schooners, all intact, were moored alongside each other in the cove. It could be the case that some of these vessels were only laid up here for a short time, and thus are not recorded with the others.
---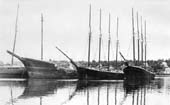 Four schooners in Mill Cove. As with the photo above, this view is somewhat of a mystery, for the same reasons. It is probable that the gutted vessel is Courtney C. Houck; the vessels at right may be temporary visitors.
---
The Medomak Schooner - Cora F. Cressy
Cora F. Cressy was a massive five-masted schooner built at the famed Percy & Small yards at Bath in 1902. She was 2499 tons (GRT), 273 feet long, and could carry some 4000 tons of coal. She was of very stout construction, with very high bows, but was a good sailer, and fast. After surviving a 1924 gale that claimed two other schooners (including the mighty six-masted Wyoming), she was known as "Queen of the Atlantic Seaboard". In 1928 she lost her sails in a gale and was laid up; she was expensive to operate and the repair costs could not be justified.
In 1929 a deckhouse was built over her main deck and she became a nightclub at Gloucester. In 1935 she was towed to Providence to continue her service as a nightclub, but returned north to Boston before the end of the year. Soon after the nightclub closed and she lay abandoned at the pier; in 1938 she was sold to become a lobster storage facility at Medomak, Maine. She was completely gutted out and towed back to Maine in March of 1938. Once she arrived at Medomak the idea was to store live lobsters in her vast hulk; this required that many holes be cut in her hull to circulate water through her holds. However, her stout construction prevented completion of this plan; it was simply impossible to cut enough holes to provide sufficient water flow. Instead she was scuttled along the riverbank as a breakwater, and the lobster pound built between her hull and the shore. At last report she was still there.
---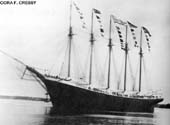 Cora F. Cressy immediately after her 1902 launch at Bath, Maine.
---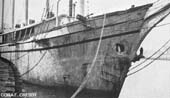 Cora F. Cressy as a nightclub at Boston. A massive deckhouse has been built over her hull.
---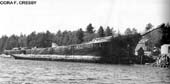 Cressy's hulk at Medomak, her final resting place. This photo probably dates from the 1970's. She is in remarkably good shape, a tribute to her builders.

Back to the Photo Galleries Main Page
This section of the HG&UW site created and maintained by Andrew Toppan.
Copyright &copy 1998-2003, Andrew Toppan. All Rights Reserved.
Reproduction, reuse, or distribution without permission is prohibited.