Haze Gray & Underway

USS Cole
(DDG 67)

Photos of the Damage

The thumbnail images and captions are linked to screen-sized images; larger images are linked to the words "Hi-Rez Image". All photos are US Navy Official photos or US DoD Official photos, except as noted. Additional photos will be added as they become available.
---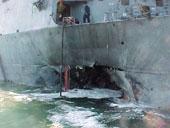 The first released close-up view of Cole's damage. The hole is in way of Main Engine Room #1, which contains the starboard main engines. This view looks forward from slightly aft of the hole.
[Hi-Rez Image]

---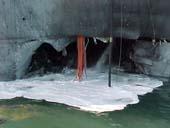 A second early close-up view of the hole.
---
An overhead view of the hole after salvage and recovery operations had begun.
---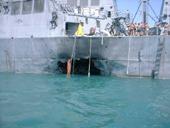 A general broadside view of the damaged area a few days after the attack.
---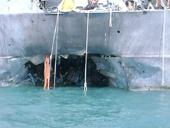 A closer broadside view.
---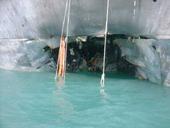 A close view of the hole, looking slightly forward.
---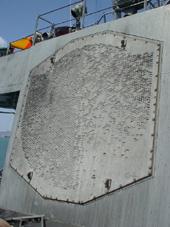 General view of the port-side aft SPY-1D radar array. This array is above and slightly forward of the explosion center. The outer surface of the array is a protective rubber cover, which has been perforated by the explosion.

---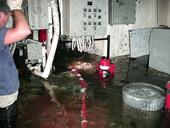 A diver working underwater in a flooded machinery space aboard Cole, 18 October 2000.
---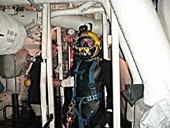 A diver prepares to get to work in a flooded machinery space aboard Cole, 18 October 2000.
---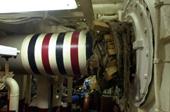 Damage control - plugging efforts to seal a failed propeller shaft bulkhead seal between flooded and non-flooded spaces aboard Cole.
[Hi-Rez Image]
---

Back to USS Cole / Book of Condolences
This section of the HG&UW site created and maintained by Andrew Toppan.
Copyright &copy 2003-2001, Andrew Toppan. All Rights Reserved.
Reproduction, reuse, or distribution without permission is prohibited.