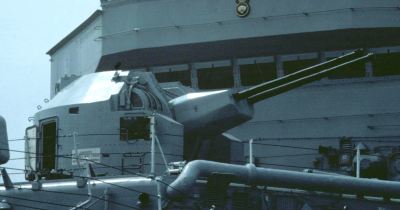 Forward mount shown on HMS TIGER. M.D. Thomas photo.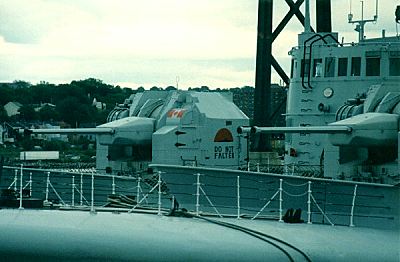 Forward mount on HMCS TERRA NOVA. Sandy McClearn photo.

Conceived as a set of specifications in 1946 for a medium calibre and range anti-aircraft mount, the Vickers 3"/70 Mk.6 was originally intended for use on aircraft carriers. The gun was intended to meet the following:


120 rounds per minute per barrel;
3,000 fps round velocity;
maximum weight of 60 tons;
gun house diameter of 15 feet and height of 11 feet;

A radial conveyor allowed for continuous transmission of ammunition from the magazine to the gun regardless of speed and angle of elevation of the guns; in practise, this system has been compared to a bottling plant.

In service, to reduce barrel wear and maintenance requirements, the guns were reduced to 90 rounds per minute per barrel.

These guns were only ever used in service on the Royal Navy's TIGER class cruisers, and the Royal Canadian Navy's RESTIGOUCHE and MACKENZIE class destroyer escorts.