Haze Gray Mystery Pictures 80 through 89
Answers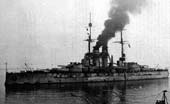 Mystery Picture #80
This is the Austro-Hungarian battleship Szent Istvan. Szent Istvan was the fourth of the powerful Tegetthoff class battleships, completed in 1912-1915. She was distinguished from her sisters by the presence of a searchlight platform on her funnels. Szent Istvan became famous when, on 10 June 1918, she was torpedoed and sunk by the Italian torpedo boat MAS 15. Several hours after being torpedoed she suddenly capsized, sending men scrambling for safety. The dramatic capsize was captured on film, and has since become standard file footage used whenever the image of a sinking warship is needed. MAS 15 is preserved today in Italy.
Correct answers were received from: Yves Grangeon, Larry Gross, Joe Chase, Mike Potter, Steve Alvin , Martin Käser, Barry Gerrard, Sergei Myagkov, Byron P. Connell, Dan Frushour, Dennis Trest, Paul Silverstone, Dave Mimms, Robert H Macdonald, Edgar Dutkowski, William F. Fessenden, Gerson Mascarenhas , Scott Peterson, Espen Arnestad, John Bradford, Timothy Crick, Czéh György, Tony Simmonds, Ingo Hohm, Dale Shantz, Mark Lawden, Frank Roach, Christoph Peeters, Eric Engels, Tara Patterson.
Photo Credit: Photo provided by Brooks Rowlett.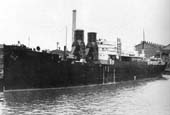 Mystery Picture #81
This is the power generation ship Jacona. Jacona was constructed in 1919 as a freighter. In 1930 she was converted into a floating power generation station, as seen here. The New England Public Service Company of Augusta, Maine ordered the conversion, inspired by the use of the aircraft carrier Lexington as a power station for the city of Tacoma, WA, in 1929. Newport News carried out the conversion, which included removal of the ship's engines and boilers, and the installation of four new oil-fired generating plants. In this configuration she had no propulsion capability of her own, and operated with a remarkably small crew of 19 men.
After service in Maine, the ship passed to the Public Service Company of New Hampshire, and served in that state. In 1945 she was transferred to the Maritime Commission for further transfer to the Army, and was towed to the Pacific. In 1947 Jacona was transferred to the Navy, but was loaned back to the Army and remained under their control. She retained her name and received the designation YFP 1. Jacona served in various ports, including Pearl Harbor, Okinawa, Nagasaki, and various Korean ports. Her final port as a US vessel was Okinawa, where she was eventually replaced by a shoreside plant. The aged but still useful Jacona was donated to the government of the Philippines in 1971; her subsequent fate is unknown.
Correct answers were received from: Paul Silverstone.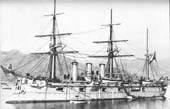 Mystery Picture #82
This is the Russian armored cruiser Pamiat Azova. Azova was constructed by the Baltic Works in 1886-1890. She waas armed with two 8"/35 caliber guns, 13 6"/35cal, various light guns, and three torpedo tubes. As was typical of cruising ships, she retained her sailing rig even when sails had vanished from contemporary battleships. Azova became a torpedo school ship in 1909, renamed Dvina, and was torpedoed and sunk at Kronstadt in 1919.
Correct answers were received from: Paul Silverstone, Mark Lawden, Sergei Myagkov, Mike Potter, Juha Joutsi, Espen Arnestad, Yves Grangeon, Carsten Larsen, James T. Flynn Jr., Maxim N. Foufaev, Stuart Miller, Edgar Dutkowski, Robert H Macdonald, C. Patrick Hreachmack, Brooks Rowlett.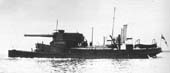 Mystery Picture #83
This is the "Rendel gunboat" HMS Drudge, photographed in 1907. Drudge was constructed by Armstrong in 1887 for use by that yard as a trials platform, presumably to test new guns and turrets. She was purchased by the Royal Navy in February of 1901, becoming HMS Drudge. Details of her career are unclear, but she apparently continued in a gun trials role. Here she is seen carrying a single 9.2 inch Mk XI turret, presumably for testing purposes prior to the fitting of that turret in the Lord Nelson class battleships.
Drudge became a base ship in 1916 and was renamed Excellent, and became the navigational training ship Dryad in 1919. She was sold in March of 1920 and became a civilian salvage vessel. After many years in salvage service in the UK, and many changes of ownership, she was sold into French ownership. The details are unclear, but it appears she remained in salvage service, renamed Francoise Quere, and was finally scrapped in 1969.
Correct answers were received from: Andrew Cashmore, Andy Breen, Dave Mimms, Peter Beeston, Ric Pelvin.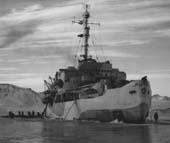 Mystery Picture #84
This is the Coast Guard icebreaker Eastwind (WAG 279) operating in the ice during WWII. Eastwind was one of the seven Wind-class icebreakers constructed during WWII. Her squat, beamy hull and icebreaking bow identify her role, and her paint scheme distinguishes her from her sisters. Of the seven sisters, five were built for the Coast Guard, and two for the Navy. Three of the Coast Guard vessels were loaned to the USSR after WWII; when returned by the Soviets, two served with the US Navy, while one returned directly to the Coast Guard. Eastwind, however, spent her entire career in the Coast Guard. Eventually all seven vessels came under Coast Guard control, as the Navy turned the icebreaking mission over to the Coast Guard.
Eastwind was stricken in 1972, the first of her class to be discarded.
Correct answers were received from: John Snyder, Richard M Boss, Ramiro Cruz, James T. Flynn, Jr., Barry Gerrard, Yves Grangeon, John Lillard, Dale Shantz, John Slocum, Joe Donahoe, Clifford Bossie, Kurt Greiner, Czéh György, Alan Nummy, Espen Arnestad.
Photo Credit: Photo provided by C. Patrick Hreachmack.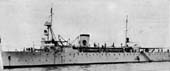 Mystery Picture #85
This is the Cuban gunboat or sloop Cuba. Cuba was constructed by Cramp Shipyard, Philadelphia, in 1911. This 2,055 ton ship, armed with two 4 inch guns and various light weapons, was the largest ship in the Cuban Navy until ex-US vessels were transferred after WWII. She was finally discarded in 1971, but likely had been an immobile hulk for some time prior to that date.
Correct answers were received from: Paul Silverstone, Dave Shirlaw, John Duerkop, Ric Pelvin, Mark Lawden, Barry Gerrard, Espen Arnestad, Ian Evans, Chris Jones, Dwayne Nutting, Bill Ullmann, Edgar Dutkowski, Carsten Larsen, Yves Grangeon, Bruce T. Swain.
Photo Credit: Photo provided by Brooks Rowlett.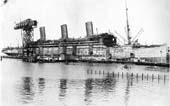 Mystery Picture #86
This is the troopship/liner Leviathan during post-WWI reconversion to a passenger liner. Leviathan was built in 1913 as SS Vaterland, Germany's largest passenger liner. The big liner was lying in a US port in 1917, and was seized by the US Shipping Board upon the US entry into WWI. She was turned over to the Navy, converted into a troopship and placed in service as USS Leviathan. Her name was doubtless a reference to her great size - at over 58,000 tons displacement, she was a very large ship by any standard. After 10 trips carrying troops to Europe, and 9 trips returning the troops home postwar, she was decommissioned in 1919 and returned to the Shipping Board.
The big ship was completely reconditioned at Newport News during 1922-1923, as seen here. Work included conversion from coal to oil fuel, extensive rewiring, and complete interior redecoration. In addition, completely new plans had to be drawn, as the Germans refused to provide the originals. She was operated by the United States Lines, on the transatlantic route, from 1923 to 1934. She proved to be uneconomical, forcing her lay-up in 1934, and she was scrapped in 1938.
Correct answers were received from: Chris Jones, Bill Daugherty, Mark Lawden, Franz J. von Stultz, Kurt Greiner, Rune Aasgaard, Yves Grangeon, Axel Reif, Christopher L. O'Connor, Patrick Hreachmack, John E. Ray, Mario F.Rosner, Michael J. Barclay, Patricio Meezs R., Ian Evans, Paul Silverstone, Randall Melton, Joe Donahoe, Dorian Jung, Norbert Huang, Joseph Chase, Tom Stoodley, Dave Shirlaw.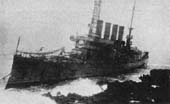 Mystery Picture #87
This is the US armored cruiser Memphis (ACR-10), wrecked at Santo Domingo, Dominican Republic. On 29 August 1916 Memphis was lying at anchor off Santo Domingo when she was struck by a series of gigantic waves, of apparent seismic origin, and driven ashore as seen here. Although there had been some indication that sea conditions were deteriorating, there was no way of knowing that gigantic waves would soon sweep through the anchorage. By the time the magnitude of the problem was clear, it was too late to get up steam and get underway. Memphis smashed against the harbor floor in the wave troughs, and was completely underwater in the crests, until she was driven ashore against the rocky cliffs. 40 men were killed, including a boatload of sailors who had been returning from shore leave when the tempest struck. Memphis was a total loss; she was decommissioned and stricken where she lay. She sold for scrapping in 1922, but no work was done for many years, and she was not broken up until 1937-38, some 30 years after she was wrecked.
It is believed that Memphis remains the largest ship lost to freak waves while in port.
Correct answers were received from: James Wade, William J Bollinger, Patrick Hreachmack, Aleksander Jaworski, Joseph Chase, Paul Silverstone, Mike Potter, Kurt Greiner, David Briedis, John E. Ray, John B. Hume, Guy Markle, Frank Roach, Mario F.Rosner, William H. Wright, Michael Zuschlag, Dave Mimms, Tony Simmonds, Steve Alvin, Barry F Lake, Klebert L. Hall, Patricio Meezs R., Mike Green, Siemon Wezeman, Ian Evans, Sergei Myagkov, Don Campbell, Paul Osborne, Espen Arnestad, Byron P. Connell, Jim Mason, Martin Kaeser, Dwayne Nutting, Brian Wulff, Steven Sheppard, Peter H. Granzeau, Rick Heinbaugh, Carsten Larsen, Barry Gerrard, Edgar Dutkowski, Davide Pagliani, Rune Aasgaard, John Bradford, Stuart Miller, William F. Fessenden, Ric Pelvin, James Coffin, Don Rodeniser, George Petras, Ramiro Cruz, Mike Tricarico, Steve Renouard, Alfred Mullett, James T. Flynn, Jr., Paul J. Perkins, Dale Shantz, Andrew Cashmore, Yves Hubert, Dorian Jung, William J. Cooke, Kim Petersen, Gunter Krebs, Bruce T. Swain, Czeh Gyorgy, Sal Mercogliano, Ben Kern.
Photo Credit: Photo provided by Brooks Rowlett.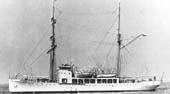 Mystery Picture #88
This is the Coast Guard Arctic patrol cutter Northland (WPG 49). Northland was a unique cutter, built specifically for Bering Sea Patrol, to replace the ancient cutter Bear. When Northland replaced Bear in 1927, the old wooden cutter was some 54 years old! Northland was originally fitted with masts and sails as shown here, but this rig was later removed. She was fitted to carry a seaplane aft. From 1927 through 1939 Northland served on the Bering Sea Patrol. During WWII she shifted to the Greenland Patrol, serving alongside the old Bear, which had been brought in government service once again.
In 1947 Northland was sold, apparently for scrapping. However, she eventually made her way across the Atlantic, was renamed Jewish State, and transported Jewish refugees to Palestine. In 1948 she was renamed Eilat (or Elath) and became the flagship of the infant Israeli Navy. Later she became a training ship, and in 1955 was renamed Matzpen, serving as a barracks or depot hulk. She was finally scrapped in 1962.
Correct answers were received from: Howard Koch, William Novobilsky, James T. Flynn, Jr., Paul J.. Perkins, Mike Muth, Paul Silverstone, Kurt Greiner, Kevin J. Foster, Barry Gerrard, David Wadsworth, Ian Evans, John Duerkop, Czéh György, Carsten Larsen, Mario F.Rosner, Don Rodeniser, Don Campbell, Mac McArthur, Dale Shantz, Dan Nerney, Kent Taylor, John Kramer, Edgar Dutkowski, Mike Green, Jim Hopper.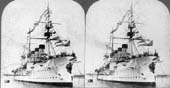 Mystery Picture #89
This is the Russian armored cruiser Rossiya (or Rossia). An 1897 product of the Baltic Works, she was the first Russian armored cruiser to lack sails. Her appearance is typical of the multi-funneled, multi-masted Russian cruiser designs of this era. She was armed with four 8"/45cal guns, 16 6"/45cal, and numerous light weapons. All of these guns were in casemates or simple shielded mounts, rather than in turrets. In general she was considered to be a less-than ideal design, and she could have done much more on her 13,675 ton displacement.
She can be distinguished from the very similar Gromoboi by the second casemate gun, directly below the bridge wing. In Rossiya there was only one gun in this position, while Gromoboi had a double-level casemate, containing two guns.
Rossiya was badly damaged during the Russo-Japanese war, but was able to proceed under her own power, and was soon repaired. She served in the Baltic during WWI, at times acting as a minelayer. She was scrapped in 1922.
Correct answers were received from: Al Ross, Curt Warner, Sergey P. Trudolyubov, John Duerkop, Mark Lawden, Sergei Myagkov, Mike Potter, Patricio Meezs R., Carsten Larsen, John Bradford, Dale Shantz, Aleksander Jaworski, Don Rodeniser, Ian Evans, Maxim N. Foufaev, Vladimir Andreev, Russ Frevele, Edmund Jankowski, Stuart Miller, Stewart Walker, Timothy Crick, Rick Heinbaugh, Czéh György, Byron P. Duhe, Pieter Cornelissen, William Novobilsky, Jack Ray.
Photo Credit: Photo provided by Brooks Rowlett.



Back to the Mystery Pictures Main Page
This section of the HG&UW site created and maintained by Andrew Toppan.
Copyright &copy 1997-2003, Andrew Toppan. All Rights Reserved.
Reproduction, reuse, or distribution without permission is prohibited.