Haze Gray Mystery Pictures 50 through 59
Answers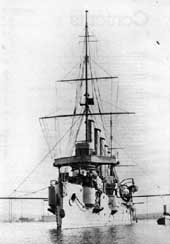 Mystery Picture #50
This is the Russian protected cruiser Askold. She is distinguished by her five tall funnels - the only large warship to have such an arrangement. Askold was completed in 1901 and served the early years of her career in the Far East and in Siberian waters. She was thrice damaged during the Russo-Japanese war. Her final battle during that war was the Battle of the Yellow Sea, where she sustained heavy damage but survived by outrunning the Japanese. Following the battle she put in to Shanghai and was interned there for the remainder of the war.
During WWI Askold moved to the Mediterranean and participated in opertions in the Dardanelles. During 1916-1917 she was overhauled in Italy and in the UK, and transferred to service in Arctic waters in September of 1917. A few months later, in the chaos of the Bolshevik Revolution, she came under Bolshevik control.
Askold was seized by the British 14 July 1918, during their intervention in the Civil War, and was commissioned as HMS Glory IV on 3 August 1918. Her career in British service was short, however, as she was returned to the new Soviet government in 1921, and sold for scrapping in Germany the following year.
Correct answers were received from: Patricio Meezs, John Duerkop, Paul Silverstone, Mike Potter, Johann Ahlert Bremer, Richard Pelvin, Christoph Peeters, Timothy Crick, Dale Shantz, Antoni Casinos, Nigel Wilson, Robert H Macdonald, Christopher E. Albert, Kazimierz Zygadlo, Yves Hubert, Dwayne Nutting, Mark Lardas, Dave Mimms, Chritopher Albert, Mark Tunnicliffe, Tom Cox, Don Rodeniser, Andy Breen, Leonid G. Bashkirov, Mark Lawden, Bill Ullmann, John Bradford, Jon Godsell, Gary MacDonald, David Perkins, C. Patrick Hreachmack, Joseph Poutre, Chris Cavas, and Barry Gerrard.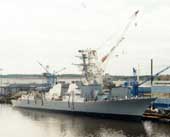 Mystery Picture #51
This is the Arleigh Burke class AEGIS guided missile destroyer Ocsar Austin (DDG 79), shown at Bath Iron Works on 8 November 1998, one day after she was launched. DDG 79 is the first of the Flight IIA variant of this class, and is clearly distinguished from the earlier Flight I and Flight II ships by the addition of dual helicopter hangars. This change required that the weather deck abaft the aft uptake/deckhouse be raised by one full deck level, providing an instant visual clue to the ship's identity. At the time this Mystery Picture was posted, Oscar Austin was the only Flight IIA DDG afloat.
BIW's next DDG, Winston S. Churchill (DDG 81), is on the launch ways beyond Oscar Austin; her uptakes can be seen just above and to the right of Austin's bridge. Two other DDG were outfitting at BIW on this day; they are out of view to the left.
Oscar Austin is scheduled for delivery to the Navy in May 2000.
Correct answers were received from: Mike Potter, Graeme Fuller, Johann Ahlert Bremer, Sal Mercogliano, Patricio Meezs, Richard Boss, Gerald Krumpas, Antoni Casinos, Robert H Macdonald, Yves Hubert, Michael Kelly, Ward C. Douglas, Paul Bunn, James Rothbart, Mark Tunnicliffe, Richard Ng, David P. Wroe, John Bradford, Bill Ullmann, Larry Ouellette, Chris Cavas, Brooks Rowlett, and Barry Gerrard.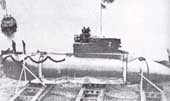 Mystery Picture #52
This is the West German Type 202 coastal submarine Hans Techel (S172). She is seen on her launching day, 15 March 1965. The two Type 202 boats were an experiment in the construction of very small submarines; they displaced only 137 tons submerged! The relative size of the men on deck illustrates the boat's tiny size. The sub's hull number has been partially removed to make identification of the photo more difficult, but the "2" distinguishes this boat from her sister, Friedrich Schurer (S173).
Both Type 202 boats conducted extensive trials in the late 1960's, first with naval crews, then with civilian crews. They did not live up to expectations, and were scrapped shortly after 1970, after very short careers.
Correct answers were received from: Johann Ahlert Bremer, Ingo Hohm, Dwayne Nutting, A.D. Baker, III.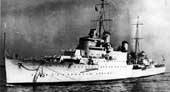 Mystery Picture #53
This is the British light cruiser HMS Birmingham, of the Southampton (or "Town") class, seen prior to WWII. Note the "Neutrality Stripes" on the second main turret, intended to identify non-beligerent ships during the Spanish Civil War.
The design of the Southampton class ships was distinctive, with aircraft hangars in the rear of the main superstructre and two slightly raked (angled) funnels of unequal height placed well forward. Identification of the specific ship depends on noting the absence of a distinguishing feature: all ships of the class, except Birmingham, had a prominent "knuckle" in the bow, between the two lines of portholes, running from the stem to a position abreast the second main turret. Since the knuckle is absent, this ship is Birmingham.
Birmingham was completed 18 November 1937, and served on China Station until the start of WWII. She saw varied duties during WWII, ranging from Norway to the Northern Atlantic, the Middle East, the Indian Ocean, and the Mediterranean. She was torpedoed by U-407 28 November 1943, while passing through the Mediterranean en route to the Indian Ocean. The damage was heavy, and after temporary repairs she lay at Alexandria for many months, until going to the USA for permanent repairs in June of 1944.
After WWII Birmingham remained active, operating in the South Atlantic, Far East, Mediterranean, and in the Home Fleet, until decommissioning 3 December 1959. She was placed on the disposal list in March of 1960 and arrived at T.W. Ward's shipbreaking yard at Inverkeithing on 7 September 1960.
Correct answers were received from: Paul Carl, Richard Pelvin, Barry Gerrard, Mike Potter, Mark Lawden, Jon Godsell, Arthur D. Niemoller, C. Patrick Hreachmack, Robert H Macdonald, Bill Vickrey, Dale Shantz, Bruce T. Swain, Stuart Robottom, Tom Cox, Richard Boss.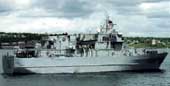 Mystery Picture #54
This is the Norwegian minelayer Vidar (N52), seen at Halifax, Nova Scotia, during 1998. Vidar's boxy design and flat stern are clues to her role as a minelayer; her hull number is visible to distinguish her from sistership Vale (N53). This pair of vessels was completed in 1977-78; they can serve in several additional roles, such as torpedo recovery, personnel/cargo transport, fisheries protection patrol ships, and as ASW escorts.
Correct answers were received from: Dave Shirlaw, Paul Carl, Barry Gerrard, Toni Casinos, Robert H Macdonald, Espen Arnestad, Patricio Meezs R., Ingo Hohm.



Mystery Picture #55
This is the Italian torpedo boat MAS7D, seen sometime between April 1941 and July 1942. By general appearance this boat appears to be German, but no German torpedo boats bore the number "7D". The boat is in fact German-built, by Lurssen, for the Yugoslavian Navy, as Suvobor. Upon the fall of Yugoslavia in April of 1941 she fell into Italian hands, and was renamed MAS7D; in July of 1942 she was again renamed, becoming Ms45. She was scuttled at Cattolica on 18 September 1943, to prevent capture by the Germans following the Italian surrender.
This boat was one of a class of eight. Of the eight, only two escaped to the Allies when Yugoslavia fell; they survived in the postwar Yugoslavian Navy until 1962. The other six boats were captured d by the Italians in 1941; two were scuttled in September 1943 and the other four were captured by the Germans. The Germans finally scuttled the last four in October of 1944 to prevent their capture by the Allies.
Correct answers were received from: Kurt Greiner, Richard Pelvin, Patricio Meezs R., Barry Gerrard, Espen Arnestad, Ingo Hohm.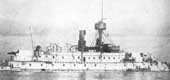 Mystery Picture #56
This distinctive and somewhat bizarre vessel is the French coast defense barbette ship Tonnant, seen around 1890. She was one of a series of coast defense ships built by the French between the 1860's and the 1890's. This series of ships was marked by small size, low freeboard, low speed, and a general lack of military value outside sheltered coastal waters. Tonnant is distinguished by her round turret-like mast platform, turtle-backed hull forward, very short (18 caliber) main guns, and extremely low freeboard abaft the after barbette (her freeboard at the stern is so low that the hull is obscured by the small boat alongside).
Tonnant was laid down in 1875 but not completed until 1884; she was stricken in 1903, by which time she was thoroughly obsolete.
Correct answers were received from: Andreas von Mach, Kurt Greiner, Peter Beeston, John Duerkop, Robert H Macdonald, Paul Silverstone, Espen Arnestad, Timothy Crick, Dale Shantz, Tom Scott, C. Patrick Hreachmack, Edgar Dutkowski, David Orzel, Mark Lawden, Dwayne Nutting, John Bradford, Bill Ullmann, Mike Potter, Ludek Bartos, Chris Cavas, Brooks Rowlett, Ingo Hohm.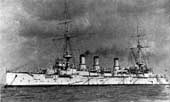 Mystery Picture #57
This is the Japanese armored cruiser Adzuma. She and her semi-sister Yakumo were both completed in 1900. Adzuma was built at St. Nazaire, Yakumo by Vulcan at Settin, Germany; they were the only Japanese armored cruisers built in France and Germany, respectively. The main visual difference between the two is in the funnels: Adzuma had casings around the lower half of the funnels, giving a "stepped" appearance, while Yakumo's funnels were of constant size for their full height.
Adzuma was active throughout the Russo-Japanese war, but was reduced to training duties after 1914. In 1921 she was partially disarmed, remaining in her training role, and in 1941 she was completely disarmed. The old ex-cruiser survived WWII, but was heavily damaged in an air raid during July of 1945, and her ruined hulk was scrapped in 1946.
Correct answers were received from: Kurt Greiner, Leonid G. Bashkirov, Peter Beeston, Ken Macpherson, Paul Silverstone, Robert H Macdonald, Barry Gerrard, John Duerkop, Espen Arnestad, Dale Shantz, Tom Scott, C. Patrick Hreachmack, Mark Walton, Timothy Crick, Edgar Dutkowski, David Orzel, Mark Lawden, Patricio Meezs R., Dwayne Nutting, John Bradford, Mike Potter, Ludek Bartos, Chris Cavas, Ingo Hohm.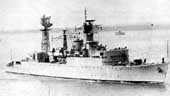 Mystery Picture #58
This is the Type 15 frigate HMS Grenville (F197) in 1973. Grenville was one of 24 Type 15 frigates converted from WWII "emergency" destroyers during 1952-1957. The conversion was very extensive, including addition of a full deck for most of the ships' length, a completely new superstructure, and a new outfit of weapons and sensors; the result was a unique design unlikely to be confused with anything else. Grenville is distinguished from the rest of the class by the later addition of a third mast carring a massive air-search radar; this was a trial installation of the radar later fitted in the Invincible class carriers.
Grenville was laid down in 1941 and completed in May of 1943 (see phot below for original appearance). Her Type 15 conversion was undertaken at Chatham Dockyard during 1953-54. She was not scrapped until 1983 - a remarkably long life for a ship built during the wartime emergency programs.
Correct answers were received from: Peter Beeston, Dave Shirlaw, John Duerkop, Ian Smith, Espen Arnestad, Mark Lawden, Timothy Crick, Mike Potter, Bruce T. Swain.
Photo Credit: Photo provided by Brooks Rowlett.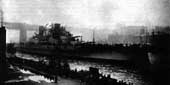 Mystery Picture #59
This is the Brazilian dreadnought battleship Minas Gerais passing under Stevenson's bridge at Newcastle, UK, for final fitting-out at Armstrong's Walker yard. Her tripod mast has been folded down to permit passage under the bridge. Minas Gerais was one of two dreadnoughts, at the time the most powerful in the world, completed for Brazil in 1910. Distinguishing features of the class include superimposed turrets fore and aft with wing turrets on either beam, funnels spaced far apart fore and aft, and minimal superstructure with a single tripod mast forward.
Minas Gerais was built by Armstrong between 1907 and 1910. On 22 November 1910 her crew mutinied; this event resulted in a loss of public support for the Navy, and cancellation of Brazil's dreadnought program. When Brazil declared war on Germany in 1917 it was planned to send Minas Gerais and her sister Sao Paulo to Scapa Flow to join the Grand Fleet, but both vessels were in poor condition, and necessary refitting outlived the war.
Minas Gerais was reconstructed during 1934-1937, receiving a completely new superstructure and rebuilt machinery. The ship was not scrapped until 1954, although she was inactive late in her career.
Correct answers were received from: Maxwell Mulholland, Mark Walton, John Duerkop, Siemon Wezeman, Mark Lawden, Paul Silverstone, Robert Edwin da Silva Smith, Espen Arnestad, Timothy Crick, Ben Kern, Tony Simmonds, Tom Scott, Danny Frost, Dwayne Nutting, Ludek Bartos.
Photo Credit: Photo provided by Brooks Rowlett.



Back to the Mystery Pictures Main Page
This section of the HG&UW site created and maintained by Andrew Toppan.
Copyright &copy 1997-2003, Andrew Toppan. All Rights Reserved.
Reproduction, reuse, or distribution without permission is prohibited.