Haze Gray Mystery Picture #112 Answer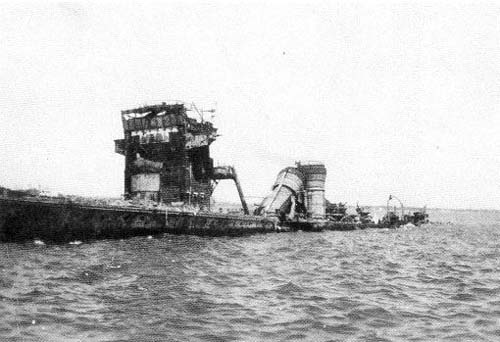 Can You Identify This Ship?
This is the Japanese cruiser Kiso, sunk 8 miles west of Manila during WWII.
Kiso was one of five Kuma class light cruisers completed in 1920-1921; they were followed by the similar Nagara class ships. Even in her ruined and sunken condition, she displays the distinctive funnel caps of her class. Kiso was the only member of her class fitted with a seaplane hangar in her bridge and a flying-off platform on her bow. Although the flying-off platform was removed long before the war, she retained a high, flat-sided bridge similar to the later Nagara class. Four of the Kumas were sunk during WWII, but Kiso was the only one sunk in shallow water. She was lost to US carrier aircraft 13 November 1944, with very heavy loss of life. The hulk was refloated 15 December 1955 and towed away the following month.
Correct answers were received from: Brooks Rowlett, Werner L. Stunkel, Masaki Ogasawara, Mike Potter, Bill Vickrey, David Briedis, Grzegorz Nowak, Manas Iksanov, Edgar Dutkowski, Hashimoto Motohilo, Tony Simmonds, Yoshiyuki Ban, Steve Hissem, Jarek Skapski, Czéh György, Eduardo Giorgi.

Back to the Mystery Pictures Main Page
This section of the HG&UW site created and maintained by Andrew Toppan.
Copyright &copy 2003, Andrew Toppan. All Rights Reserved.
Reproduction, reuse, or distribution without permission is prohibited.