Haze Gray Photo Feature

"Flush Deck" Destroyers

All-Purpose Ships
The distinctive "flush deck", "4 pipe" or "4 stack" destroyers were a product of WWI mass production, although many entered service after the war. They were the backbone of US destroyer forces well into the 1930's, played a vital role in the early days of WWII, and soldiered on to the end of the war, despite their advanced age.

Over the years dozens of the ships were converted for various other duties, including seaplane tenders (AVD), high speed minesweepers (DMS), light minelayers (DM), high speed transports (APD) and various auxiliary roles (AG). After extensive service in WWII, the aged, worn and obsolete ships were rapidly sold off for scrap. Today none of these famous ships survive, but the legend of the 4-pipers lives on.

Original Configurations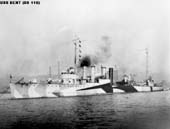 USS Dent (DD 116) in 1918, in camoflage paint. Schemes such as this were common during WWI. Dent survived through WWII as an APD, and was scrapped postwar.(National Archives photograph)
---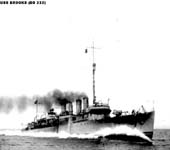 USS Brooks (DD 232) underway at high speed, 27 May 1920, probably on builder's trials. She became a transport (APD 10) in 1942 and was damaged beyond repair by Kamikazes on 6 Jan 1945. (National Archives photograph)

---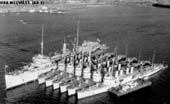 USS Melville (AD 2) with a nest of 6 destroyers, 10 Nov 1932. The tender, despite being launched in 1929, served through WWII to be broken up in 1949. (National Archives photograph)

---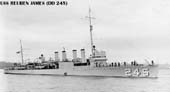 USS Reuben James (DD 245) in Chinese waters before WWII. Reuben James lead an uneventful life prior to WWII, making photos of her somewhat rare. She will be forever remembered, however, as the first US ship sunk by the Germans, as she was torpedoed by a U-boat 30 October 1941. (USN Official Photo)

---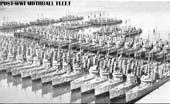 A flotilla of mothballed flush deckers after WWI. The end of WWI and the coming of arms reduction treaties lead to the mothballing of a vast number of the flush deckers. Here, over 60 ships rest in mothballs. During the 1930's a large group of the flush deckers that had remained in service developed serious boiler problems, so they were exchanged for mothballed ships on a one-for-one basis, saving the expense of boiler replacements. (Official US Navy photograph)
---
Conversions
Just before and during WWII, most of the flush deckers remaining in service underwent extensive alterations to fill new roles. A considerable number of ships retained their DD designations but traded torpedo tubes for anti-submarine weapons to combat German submarine forces in the Atlantic. These aged but effective "escort destroyers" played a critical role in the Battle of the Atlantic, and bore the brunt of that fight until the new destroyer escorts entered service.
Additional groups of flush deck destroyers became light minelayers (DM), high speed minesweepers (DMS), light seaplane tenders (AVD), and high speed transports (APD). All these conversions were emergency measures to meet immediate needs pending the arrival of better-suited ships. Once new seaplane tenders (AVP) came into service, the AVDs were redesignated as destroyers (DD). Many of the DM and DMS types also served in destroyer roles, although not redesignated as DDs. In the final years of the War, a variety of flush deckers were reduced to training roles and redesignated as miscellaneous auxiliaries (AG). They survived only as long as their hulls and equipment held out, and were discarded as they required repairs, or as the need for training ships vanished.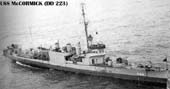 USS McCormick (DD 223) as converted to an escort destroyer. This January 1944 view sbows many of the typical modifications: one boiler removed for increased fuel tankage, HF/DF sensors installed, half the torpedo tubes removed, hedgehogs added, 3/50 guns to replace the original 4 inch weapons, and all the 20 mm guns removed to compensate for the weight of the Hedgehogs. McCormick became a training ship (AG 118) in June of 1945 and was stricken in October of that year. (Official US Navy photograph)
---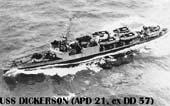 USS Dickerson (APD 21, ex DD 157) as a high speed transport, 1945. She was converted to an APD 8/1943; damaged by Japanese aircraft 2 April 1945, she was scuttled two days later. As an APD the forward boilers and stacks were removed, a superstructure built up aft of the bridge, and landing craft replaced the torpedo tubes aft. (Official US Navy photograph)

---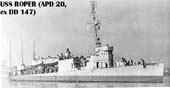 USS Roper (APD 20, ex DD 147), another fast transport conversion. Her forward supertructure has been much reduced, her forward two boilers and funnels removed, and her original armament replaced by 3/50 guns and landing craft. Note the masts of a schooner in the background -- a relic of an era long past. (Official US Navy photo)
---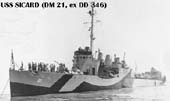 USS Sicard (DM 21, ex DD 346) as a light minelayer, 1944. She was converted to a minelayer in the 1930's, redesignated as an auxiliary (AG 100) in June 1945, and scrapped in 1946. The conversion retained the original boilers and 4 stacks, but the torpedo tubes were replaced with tracks for 80 mines, and the guns were replaced. (Official US Navy photograph)

---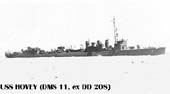 USS Hovey (DMS 11, ex DD 208) as a high speed minesweeper, 1943. She was converted early in the war, and was lost 6 Jan 1945. Her conversion included the removal of her aft stack and boiler. (Official US Navy photograph)

---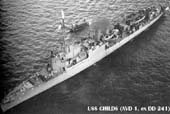 USS Childs (AVD 1, ex AVP 14, ex DD 241) in November 1944. Converted to a seaplane tender in 1937, she was designated AVP 14 as an interim measure, until the destroyer-to-seaplane tender conversions were given a separate designation, when she became AVD 1. Her original bridge has been much reduced, but superstructure has replaced the forward funnels, and gasoline storage has replaced the forward boilers. Most of her weapons have been removed, and seaplane service boats occupy the aft deck. She later returned to destroyer status and surived through January 1946. (Official US Navy photograph)
---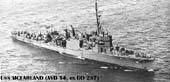 USS McFarland (AVD 14, ex DD 237) as a near-destroyer in 1943. Although designated as, and converted to, a light seaplane tender, McFarland has lost her seaplane service boats and homing beacon in favor of destroyer-like weapons, including a very heavy 20 mm AA battery, She was redesignated as a destroyer at the end of 1943, and was stricken at the end of 1945. (Official US Navy photograph)
---
A Ship of Many Roles
USS Boggs (DD 136) went through many designation changes over the years, serving in four different roles. She was far from the only flush decker to go through multiple designation/role changes, but her various different roles are unusually well documented.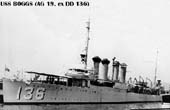 USS Boggs (AG 19, ex DD 136), converted and disarmed as a radio-controlled target ship, still wearing her DD number. She recommissioned as a target ship 19 Dec 1931 and served through 1940 as a target ship in the Pacific Fleet. (Photo courtesy U.S. Naval Institute, "Our Navy" collection)

---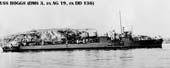 USS Boggs (DMS 3, ex AG 19, ex DD 136) as a high speed minesweeper, June 1943. Boggs became a high speed minesweeper in 1940, retaining all four of her stacks, unlike many DMS conversions. Following DMS service she acted as a target tug around San Diego from 1944 to March 1945. (National Archives photograph)

---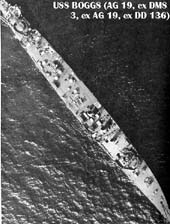 USS Boggs (AG 19) as a high-speed target tug, 30 June 1945. In March 1945 she was stripped for use as a high speed target tug near the front lines in the Pacific, and designated AG 19 once again. This conversion involved removal of most of her weapons and equipment, except the towing winch from her DMS days. She arrived at the front on 15 August 1945, just as the war was ending, so she saw little service before being decommissioned early in 1946 and sold later that year. (Official US Navy photograph)
---
A Japanese Variation
USS Stewart (DD 224) became one of the great mysteries of WWII. Stewart had served as part of the US Asiatic fleet since 1923. In the early days of the war she participated in several actions against the Japanese, sustaining fairly minor damage during the fruitless battle of Badung Strait on the night of 19-20 February 1920. She was drydocked for repairs at Surabaya, on the north coast of Java. Unfortunately, she was improperly positioned on the keel blocks, so she rolled on her side when the floating drydock was pumped out. She was hit by a Japanese bomb soon after. The ship was declared a total loss, and demolition charges sent the dock and the destroyer to the bottom of the harbor on 2 March 1942 as US forces evacuated the port. The US Navy struck her name from the Register and assigned it to a new destroyer escort.

Later in the war, pilots reported seeing a ship that looked like a US 4 stack destoyer, but with distinctly Japanese features. The identity of this ship remained a mystery until August 1945, when Stewart was found rotting in a bay near Kure. How had she come to be in Japan? The Japanese raised the ship nearly a year after she was sunk and commissioned her as Patrol Boat No. 102 on 20 September 1943. Her forward stacks were trunked into one large, angled stack and her US armament was removed, as was one boiler. She received a Japanese-style tripod mast and Japanese weapons, including a platform-mounted gun ahead of the bridge.

As a tribute to the old ship, she was recommissioned on 29 October 1945, given her old number back, and named "ex-Stewart". Now the Navy had to decide what to do with the old hulk. She should have been towed out to sea and scuttled. Instead, it was decided that she would return to San Fransciso, making her first return to the US since 1923. Given a "volunteer" crew of 60 naval reservists headed home for discharge, the rotting ship departed for the US on 7 November 1945. Her propulsion systems soon failed, and she was taken in tow by a destroyer escort and then by a fleet tug. All but 20 of her crew were transferred to other ships, and the remaining few suffered through a miserable 4 month voyage home, which included over a dozen breaks in the towline. On 6 March 1946 she finally passed under the Golden Gate Bridge, US flag and paying-off pennant flying high. She rotted at backwater docks for two months until she was taken out and sunk as a target on 24 May 1946.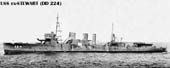 ex-Stewart under tow shortly before being sunk as a target, 24 May 1946. Note the Japanese-style tripod mast, gun platform and bow numbers. She has been disarmed, and a Japanese ensign is painted on the hull for repatriation duty. (National Archive photo)

---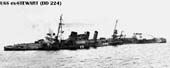 ex-Stewart afire and sinking after being hit by aircraft bombs & rockets and 3 inch gunfire from a patrol boat. One bomb scored a direct hit on her bridge, which has collapsed and is burning. (National Archives photo)


Back to the Photo Galleries Main Page
This section of the HG&UW site created and maintained by Andrew Toppan.
Copyright &copy 1997-2003, Andrew Toppan. All Rights Reserved.
Reproduction, reuse, or distribution without permission is prohibited.