Haze Gray Photo Feature

USS Enterprise

From Sails to Atomic Power
The name Enterprise has a long history in US naval service, going back to 1775, prior to the formal creation of the US Navy. Ships carrying the name Enterprise have ranged from tiny sloops-of-war to WWII's most decorated warship to a giant nuclear powered aircraft carrier. This feature presents and illustrated history of all those ships.

The Early Enterprises
The first Enterprise in US naval service was a 70 ton Sloop of War captured from the British on 18 May 1775. She served on Lake Champlain for just over 2 years before running aground and being burned to prevent capture 7 July 1777.
---
The next Enterprise was a 25 ton privateer schooner purchased by the Continental Navy on 20 Dec 1776. She served in Chesapeake Bay for a short period of time, and was returned to the Maryland Council of Safety in Febuary, 1777.
---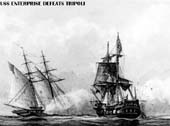 The third Enterprise was a 125 ton brig built in 1799. She fought in the the Quasi-war with France, Barbary Wars, the War of 1812, and against pirates, slavers and smugglers in US waters. In these duties she captured, defeated or recovered 3 dozen ships. On 9 July 1823 she ran aground and was lost. Here she is seen capturing the Tripolitan Sloop of War Tripoli (National Archives image).

---
The fourth Enterprise was a 194 ton schooner commissioned in 1831. She spent a total of 6 years patrolling off South America and sailed around the world once before decommissioning 24 June 1844. She was sold shortly thereafter.
---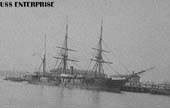 The next Enterprise was a 1375 ton bark-rigged, steam-powered sloop-of-war commissioned 16 March 1877. She spent the years 1877 to 1890 engaged in survey work, with several periods in reserve. During 1891-1892 she was a school ship at the Naval Academy, and became a training ship for the Commonwealth of Massachusetts in 1892. She was returned to the Navy in 1909 and was sold 1 Oct 1909. (Detroit Publishing Company photo, National Archives)

---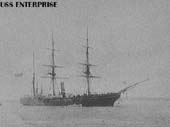 Sloop-of-war Enterprise at anchor. (Detroit Publishing Company photo, National Archives)

---
USS Enterprise (CV 6)
Probably the most famous USS Enterprise (CV 6), an aircraft carrier, was commissioned 12 May 1938. During WWII she participated in almost every major battle, and was the only US aircraft carrier operating in the Pacific at times. Her first action of the war came on the first day of US involvement, when her aircraft dueled with the Japanese attackers over Pearl Harbor. Early in 1942 she escorted USS Hornet on the famous Doolittle Raid on Tokyo, and was rushing south to join in the Battle of the Coral Sea when she was recalled to Pearl to prepare for the Battle of Midway. At Midway her aircraft participated in the sinking of three Japanese carriers, ending the Japanese offensive in the Pacific. She fought with distinction through the rest of the war, collecting 20 of 22 possible combat stars, sinking 71 enemy ships and shooting down 911 aircraft. She was the most decorated ship of the war.
---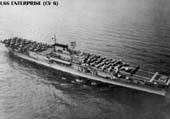 Enterprise (CV 6) as completed. The size of her early air wing is clearly shown, along with peacetime boat stowage and a relatively light gun armament. (USN Official Photo)

---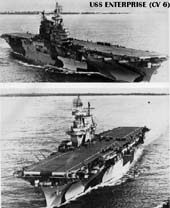 Enterprise (CV 6) after a major overhaul/refit at Puget Sound in 1943. The refit repaired the wear & tear of war and updated & modernized the ship for service through the remainder of the war.(USN Official Photo)

---

Another view of Enterprise after her mid-war overhaul. (USN Official Photo)

---

An overhead view of Enterprise after her mid-war refit. (USN Official Photo)

---
USS Enterprise was severely damaged by a Kamikaze 14 May 1945, and repairs kept her out of service until the end of the war. Postwar, she served as a troopship, bringing over 10,000 Americans home. In 1946 she was proposed for donation to New York as a museum ship, but the donation was cancelled. She was decommissioned 17 Feburary 1947 and laid up in reserve. A 1949 proposal to operate her as a Navy-owned museum at San Francisco failed. She was reclassified as an attack carrier 1 October 1952, and became an antisubmarine carrier 8 August 1953. On 2 October 1956 she was stricken from the Naval Vessels Register, and a final effort to preserve her as a museum at Washington D.C. began. However, the Enterprise Association was given only 6 months to raise the $2 million required to preserve her, and the museum effort never stood a chance. The Navy and the Enterprise Association came to an agreement to allow the Navy to dispose of the ship: the Navy agreed to name the first nuclear powered aircraft carrier Enterprise, allowed the Association to name the elevator tower at the new stadium in Annapolis in honor of the ship, and agreed to give the Association whatever pieces of the ship they wanted for an alternate memorial. This was to include placing her mast atop the elevator tower, but that part of the agreement fell through. The carrier was sold to Lipsett, Inc. on 1 July 1958 for $561,333 and was towed to Kearny, NJ for scrapping. Breaking up began in the spring of 1959, and took about one year. In March of 1960 her keel was hauled onto a beaching ground for final scrapping.
---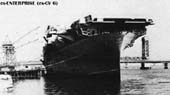 ex-Enterprise awaiting the breakers, late 1958. (Photo courtesy Paolo Pizzi)

---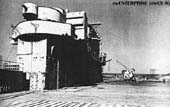 The mast cut down and laid on deck, late 1958. (Photo courtesy Paolo Pizzi)

---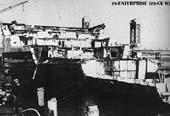 Scrapping the bow, late 1959. (Photo courtesy Paolo Pizzi)

---
USS Enterprise (CVAN 65)
The most recent USS Enterprise is also the longest-serving ship of the name. Commissioned 25 November 1961, she was the first nuclear powered aircraft carrier built, as well as the longest warship ever. She was built with a distinctive square island supporting phased-array radars and a complex EW system. She participated in the blockade of Cuba in 1961, and circled the globe in 1963 with USS Long Beach and USS Bainbridge. She was the first nuclear ship to enter combat when her aircraft struck targets in Vietnam, and she assisted in the evacuation of Saigon at the end of the Vietnam conflict. The years 1979 to 1982 were spent at Puget Sound Naval Shipyard receiving a reconstructed island and numerous improvements. During 1990-1995 she was reconstructed at Newport News, being updated for service through 2015. Upon her retirement, she will be 54 years old.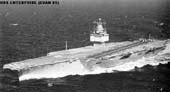 USS Enterprise (CVAN 65) as completed. The ususual square island supports phased-array radars, and the "beehive" atop the island houses a complex electronic warfare system. (USN Official Photo)

---
Another view of Enterprise early in her career. (USN Official Photo)

---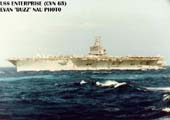 USS Enterprise (CVN 65) following her early 1980's reconstruction. She has been reclassified as a multimission aircraft carrier and has been extensively updated, modernized and refitted. (Evan "Buzz" Nau Photo)

---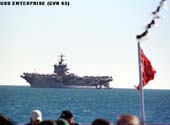 Enterprise as she appeared in 1998, following another major reconstruction. (USN Official Photo)

---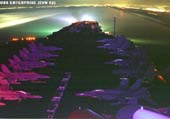 View from the bridge as Enterprise passes through the Suez Canal at night. (USN Official Photo)

---

Back to the Photo Galleries Main Page
This section of the HG&UW site created and maintained by Andrew Toppan.
Copyright &copy 1997-2003, Andrew Toppan. All Rights Reserved.
Reproduction, reuse, or distribution without permission is prohibited.