Motive Power Review

Snowfighting Photo Gallery

Spreaders - US Western Roads
The next step up from the wedge plows on the snowfighting ladder are the spreaders. Spreaders are generally large, complex pieces of equipment, and they may carry a variety of snow removal devices. Most spreaders have a large front plow blade. The lower sections of the blade may be hinged to allow them to push light snow to only one side. There may also be extension wings off the front blade. All spreaders have large side wings or arms, which can push snow well clear of the tracks. A "broken wing" spreader has pivoting extensions on the side arms to clear a wider swath or clear deeper snow. Many speaders also have flangers. Spreaders are the largest pieces of snow removal equipment to see frequent service.
Most spreaders are Jordan Spreaders, but there are several competing varieties, including the Snow Dozer, which was built by a competing company. There are also a number of homebuilt spreaders.
---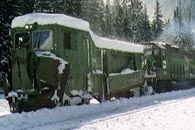 Snow Dozer BN 972514 at Cascade Tunnel, Janaury 1996.
Photo: Don Hanley


---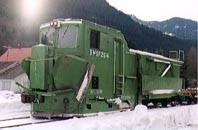 Another view of BN 972514. The details of the nose blade and enclosed carbody are clear in this view.
Photo: Don Hanley


---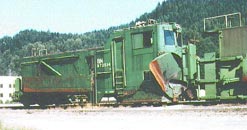 BN 972514 at Skykomish, WA, 27 July 1982. This view clearly shows the mechanics of the wings -- relatively simple compared to the Jordan Spreaders.
Photo: Evan Werkema


---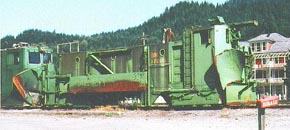 BN 972513, another Snow Dozer, at Skykomish, WA, 27 July 1982. BN 972514 is parked behind this dozer.
Photo: Evan Werkema


---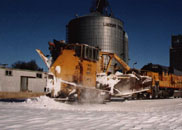 Chicago & Northwestern (Union Pacific) 11991 at Gukeen, MN, 13 January 1997. This ex-C&NW spreader was opening the Fairmont Branch after heavy snow and high winds blocked the line with drifts. The crew has stopped to clear the plow after pushing through a 12 foot snow drift; later this day they will encounter 15 foot drifts. This spreader was based at Mason City, Iowa.
Photo: K. Schmidt


---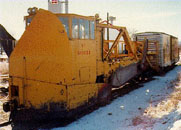 Union Pacific 903032 at Emmett, Idaho. This broken-wing spreader shows an impressive front plow.
Photo: Bryan Loftin


---

Front view of UP 903032 at Emmett, Idaho.
Photo: Bryan Loftin


---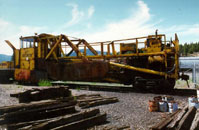 Union Pacific Jordan at the Portola (CA) museum, summer 1996.
Photo: Alan Radecki


---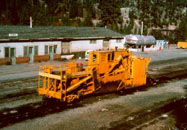 Western Pacific spreader at Keddie, CA, in the mid 1970's.
Photo: Frank Radecki, courtesy of Alan Radecki


---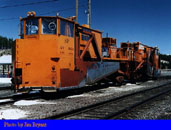 Southern Pacific Jordan Spreaders. Part of SP's legendary snowfighting fleet, this spreader shows the rotating windows designed to preserve the crew's view in heavy snowfall. These two spreaders are smallish fixed-wing pieces.
Photo: Jim Bryant


---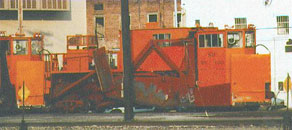 Southern Pacific MW4030 at Roseville, CA, 17 August 1996.
Photo: Evan Werkema


---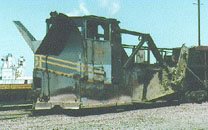 Santa Fe 199246 at Richmond, CA, 5 April 1996. This was ATSF's oldest spreader at the time of the BNSF merger; it was built in 1957. In this view it is working on a ballast train.
Photo: Evan Werkema


---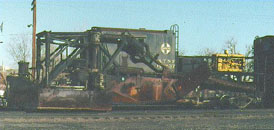 ATSF 199237 at Albuquerque, NM, 16 April 1983. This old spreader, built in 1930, was retired in 1985. It was officially listed as a Jordan Ditcher.
Photo: Evan Werkema


---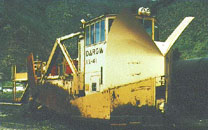 Denver & Rio Grande Western AX-41 at Minturn, CO, 3 Aug 1987.
Photo: Evan Werkema


---
Snowfighting Photo Gallery
Compiled and Maintained by Andrew Toppan (actoppan@hazegray.org)
Copyright &copy 1997-2003 by Andrew Toppan
All photographs are copyright by the photographers
Reproduction, reuse or distribution without permission is prohibited