Haze Gray Mystery Pictures 40 through 49
Answers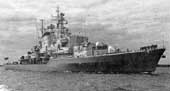 Mystery Picture #40
This is the West German training ship Deutschland (A59), commissioned in the early 1960's. Although designed from the start as a training ship, she was also intended to undertake various other roles in wartime, including troop transport, hospital ship, escort, and minelayer. She was the largest combatant-type ship built in postwar Germany up to that time, and her large displacement (over 5600 tons FL) required special permission from the Wester European Union.
For her training role she had a mixed steam and diesel machinery plant, and a wide variety of guns, torpedo tubes and rocket launchers. She shared some design features with the contemporary Hamburg class destroyers, and in general resembled an enlarged version of those vessels. Deutschland was decommissioned 28 June 1990 and sold for scrapping in October of 1993.
Correct Answers were received from: Brooks Rowlett, Chris Cavas, Dave Shirlaw, Mark Lawden, Michael Potter, Jeff Lancaster, Chris Jones, foyles@unitel.co.kr, Patricio Meezs, Mike Tricarico, Pat Barnhouse, a2950308@smail.Uni-Koeln.DE, Toni Casinos, William A. Ullmann, Dwayne Nutting, Barry Gerrard, Timothy Crick, Ingo Hohm, Salvatore Mercogliano, Per Nordenberg, Siemon Wezeman, Robert-H.Macdonald@ffi.no, Arne Tandberg, Stuart Robottom, Dave Mimms, Kevin McCarthy, Wouter Trioen.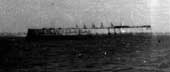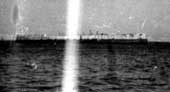 Mystery Picture #41
This is the un-named, un-numbered hulk, generally called "ex-Oregon", employed as an explosives storage barge at Guam during the later stages of WWII. This ship was originally the battleship Oregon (Battleship Number 3), commissioned in 1895. She became famous in 1898 when she made a high-speed run from San Francisco to Flordia, via Cape Horn, to participate in the Battle of Santiago.
By 1903 Oregon was already obsolete, and was laid up in reserve. She was reactivated in 1911, but saw little activity, and alternated in and out of reserve until 4 October 1919, when she was decommissioned for the last time. In 1924, under the provisions of the Washington arms control treaty, the old ship was rendered "incapable of warlike service". She was redesignated as an un-numbered miscellaneous auxiliary (IX), and was loaned to the state of Oregon as a museum in 1925. Later she was assigned the designation IX 22.
On 17 February 1941 the state of Oregon returned the old relic to the Navy for "coastal or other defense use". The Navy saw no use for the aged ship, and promptly decided to get rid of it; she was stricken 2 November 1942 and sold 7 December 1942. Less than a year later the Navy reversed itself, and reclaimed the hulk from the scrapper during September of 1943. By this time the ship's superstructure and armament had been completely removed, and the hull gutted internally.
The old hulk was towed out to Guam and used as an explosives and munitions storage hulk. The hulk parted its moorings during typhoon the night of November 14-15, 1948, and was given up as lost. On 8 December 1943 a passing vessel spotted the hulk, a tug was dispatched, and ex-Oregon was brought back to Guam. She remained there for nearly a decade more, but was finally sold for scrapping on 15 March 1956, towed to Kawasaki, Japan, and broken up at last.
Correct Answers were received from: Brooks Rowlett, Chris Cavas, Theodore Leverett, Kurt Greiner, "Iacobus", GunBoss@aol.com, Hugh Mowen, rickl@riconnect.com, Garth Kidman.
Photo Credit: Provided by Pat Clyde. Copyright 1950, 1998 Francis Patrick Clyde. All rights reserved.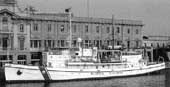 Mystery Picture #42
Careful examination of this photo shows the unmistakable hull lines of a US Navy Cherokee class WWII-era fleet tug (ATF), although the ship's original apparance has been heavily altered by the addition of deckhouses. Although this ship is 55 years old, and has been through three owners and several changes in role, she retains her original name, Bannock. She is ex-ATF 81, built in 1943 by Charleston SB&DD, South Carolina.
Bannock spent the first year of her life in the Atlantic, first along the US east coast and in the Caribbean, then European waters, operating in support of the Normandy invasion. Shortly after D-Day she returned to Boston and sailed for the Pacific, where she supported the Okinawa invasion. Bannock was placed in reserve on 21 February 1947, but was reactivated 11 September 1951. She returned to reserve 25 November 1955, and was loaned to the Italian government during October 1962.
Bannock was refitted as an oceanographic research ship for service in the Mediterranean, a role she apparently carried out for nearly 30 years. In 1992 she was acquired by the Italian Coast Guard, and now operates on behalf of the University of Tor Vergata.
Correct Answers were received from: Barry Gerrard, Kurt Greiner, Cesare Vecchi, Robert Macdonald, Brooks Rowlett.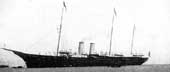 Mystery Picture #43
This is the British Royal Yacht HMY Victoria & Albert. This 4,700 ton ship was launched in 1899 and survived for over 50 years. During WWI and WWII she was employed by the navy in training roles, but by the end of WWII she was considered no longer seaworthy and was laid up. She was finally scrapped in the mid-1950's.
Correct Answers were received from: Barry Gerrard, Alex Walton, Kurt Greiner, Johann Ahlert Bremer, Robert Macdonald, Dave Shirlaw, xpm86@dial.pipex.com, Antoni Casinos Va, John Bradford, Christopher H. Jones, Dave Mimms, Gary MacDonald, Mark Lawden, Dale Shantz, Barry Lake, jwade2@lsu.edu, Dave Jackson, Christopher L. O'Connor, Mark Walton, Brooks Rowlett.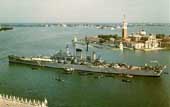 Mystery Picture #44
This photo shows USS Salem (CA 139) at Venice, Italy, during the 1950's. Salem was serving as flagship of the US 6th Fleet at the time.
Correct Answers were received from: Dave Shirlaw, Paul Carl, Kurt Greiner, John Snyder, William Vickrey, James Wade, Laurence Maller, Paul Silverstone, Timo Herrala, Robert Macdonald, Patricio Meezs, Arne Tandberg, Mike Tricarico, Tim Lanzendoerfer, Joseph Poutre, Dave Mimms, Christopher H. Jones , Barry Gerrard, Dale Shantz, Mark Lawden, Panu Wilska , Ray Clark, Pieter Cornelissen, Frank Doherty, John Bradford, William A. Ullmann, "Lifeguard", Antoni Casinos Va, Hubertypc@aol.com, Stephen Keller , Mike Green, Andrew Kovach, Dwayne Nutting, Brooks A Rowlett.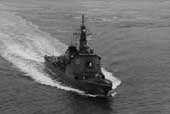 Mystery Picture #45
This is the Japanese Kongo-class destroyer Kirishima (DDG 174). To make this otherwise easy puzzle more challenging, the photo was altered by removal of the "1" from her pennant number, allowing easy confusion with the similar US Arleigh Burke class destroyer USS McFaul (DDG 74).
Kirishima is the second of Japan's four Aegis destroyers. The design of these ship is based upon the US Arleigh Burke class destroyers, but there are a number of significant differences. Most notably the forward superstructure appears to be two decks higher in the Japanese design, and the mast is a conventional lattice mast, rather than the reduced radar cross section mast carried by the US ships. Aft, the separate helicopter deck has been eliminated, and the stern raised by one level, leaving only a small helicopter platform at main deck level, abaft the VLS.
Closer examination (of more detailed photos) shows a number of smaller changes from the US design, including the arrangement of boats, liferafts, Harpoon missiles and UNREP gear. A different EW suite is fitted, and the 5" (127mm) gun is by a different manufacturer. There also appear to be some differences in machinery arrangement, based on positioning of engine exhausts/uptakes.
Correct Answers were received from: Dave Shirlaw, Paul Carl, Barry Gerrard, Christopher Poulos, Mark Spence, Per Nordenberg, ATVotoms@aol.com, Timo Herrala, Robert H. Macdonald, Alex Walton, Dave Jackson, Peter Heinz, Theodore Leverett, "Kitsune", Dale Shantz, Christopher H. Jones, Ramiro Cruz, Ron Kelley, Ray Clark, Pieter Cornelissen, John Bradford, William A. Ullmann, Antoni Casinos Va, Stuart Robottom, Paul J. Adam, Stephen Keller, Donald D. Brumfield, Lee, Brooks A Rowlett.
Photo Credit: Kurt Greiner/SeaPhoto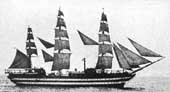 Mystery Picture #46
This is the Italian sail training ship Amerigo Vespucci. Compeleted in 1931, this full-rigged ship remains in service today, her appearance little altered by nearly 70 years of service. At over 4,100 tons displacement she is one of the largest "tall ships" actively sailing today. Her sistership Christoforo Colombo was handed over to the Soviets after WWII and promptly vanished.
Correct Answers were received from: Dwayne Nutting, Dave Shirlaw, Salvatore Mercogliano, Brooks A Rowlett, Thomas Schoene, Barry Lake, Timo Herrala, TMOliver, Anamaria Meezs, Dave Mimms, Mark Lawden, dstern, Robert H. Macdonald, Ingo Hohm, Daniel McCarthy, Yves Hubert, William Vickrey, Jose Berenguer Pujadas, Antoni Casinos Va, Ramiro Cruz, Dale Shantz, Pieter Cornelissen, Barry Gerrard, Mark Walton, Bruce T. Swain. Honarable Mentions to Jon Godsell, Patricio Meezs, and Iiro Hyrsky for identifying this ship as Cristoforo Colombo.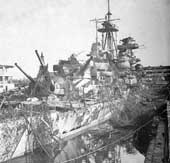 Mystery Picture #47
This bombed, burnt-out, scuttled hulk is the German heavy cruiser Admiral Hipper as she was found at the end of WWII. During WWII Hipper took part in only two major actions - the invasion of Norway, and the raid on convoy JW51B. As the German surface fleet disintegrated during 1943, Hipper was decommissioned to reserve 1 April 1943. She was recommissioned for training duties a year later. At the end of the war she carried 1,500 refugees from the eastern Baltic area to Kiel, where she was bombed and disabled. In the final days of the war she was scuttled. A few years later the hulk was broken up for scrap.
Correct Answers were received from: Dave Shirlaw, Kurt Greiner, Brooks A Rowlett, William Whitaker, cz75@cts.com, Rune Aasgaard, Robert H. Macdonald, Mike Potter, Lionel Teed, John O'Keefe, Merlin Dorfman, Jon Godsell, Dale Shantz, Patricio Meezs, Timothy Crick, Gary J MacDonald, Ramiro Cruz, Andres Pico, Dave Mimms, Mark Lawdwen, Andrew Damico, Panu Wilska, Eugenio Orsini, Mike Green, Kitsune, Ingo Hohm, Mats Onnby, William Vickrey, foyles@unitel.co.kr, Antoni Casinos Va, James P Barton , Chris27V@aol.com, Donald D. Brumfield, Tom Scott, Carlene/Tim McCann, Pieter Cornelissen, Barry Gerrard, rickl@riconnect.com, jchase, William A Ullmann, Bruce T. Swain.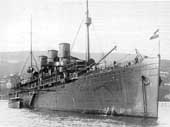 Mystery Picture #48
This is the Austro-Hungarian torpedo boat depot ship Gaa. Initially completed in 1890 as the German passenger liner Furst Bismarck, she was purchased by the Russian Navy and renamed Don. The Russians employed the ex-liner as an auxiliary cruiser. The Austro-Hungarian navy acquired the ship in 1909 and converted her to support torpedo boats, as seen here. Gaa was fitted with 120mm (4.7 inch) guns from two old cruisers, large cranes from two battleships, and stowage for 81 torpedoes and 100 mines.
During WWI she served as a support ship for German and Austro-Hungarian submarines. After the war Gaa became Italian property and returned to the commercial shipping market under the name San Giusto. The liner was asssigned the trans-Atlantic run, but she completed only one trip to New York before being damaged by a strong gale. The well-used vessel was laid up upon completion of the return voyage, and was scrapped in 1923-23.
Correct Answers were received from: Brooks Rowlett, Chris Cavas, Dave Jackson, William A. Ullmann, Paul Silverstone, Robert H. Macdonald, Mark Lawden, Ingo Hohm, Dale Shantz, Mike Potter, Johann Ahlert Bremer, John Bradford.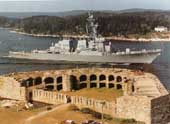 Mystery Picture #49
This photo shows USS John S. McCain (DDG 56) passing Fort Popham, at the mouth of the Kennebec River, Maine, en route from her builders (Bath Iron Works) to the Pacific Fleet. This photo dates from the summer of 1994; the ship had been commissioned at BIW on 2 July. As is typical during the "sailaway" trip down the Kennebec, her crew is manning the rails. They will soon remove themselves to more practical locations as the ship leaves the sheltered river and enters the open ocean.
Construction of the current Fort Popham started in 1861; the site was garrisoned during the Civil War, Spanish-American War, and WWI. In later years this venerable fort was supplemented by Fort Baldwin, a more modern concrete fortification built as part of the coastal defense programs of the late 1800's and early 1900's. Both forts are now part of a state park and are popular tourist attractions.
Correct Answers were received from: William A Ullmann, Timo Herrala, Barry Gerrard, Jon W Paisley, Jim McDonald, Mike Potter, Bill Rhodes, Lou Colella, Dave Mimms, Christopher L. O'Connor.



Back to the Mystery Pictures Main Page
This section of the HG&UW site created and maintained by Andrew Toppan.
Copyright &copy 1997-2003, Andrew Toppan. All Rights Reserved.
Reproduction, reuse, or distribution without permission is prohibited.