Haze Gray Mystery Picture #168 Answer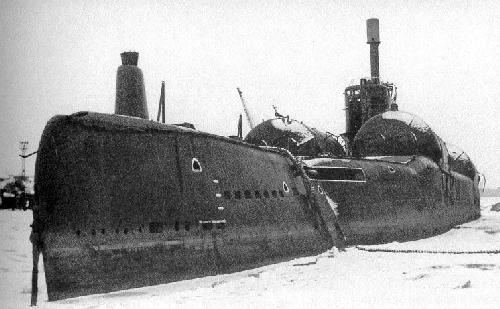 Can You Identify This Ship?
This is the Soviet submarine S-296.
S-296 was a member of the numerous 'Whiskey' class, Project 613, and was completed in June 1956. The sub was modified to test an experimental closed-cycle engine, which required massive external tanks for chemical storage, as seen in this view. The modification was designated Project KATRAN.
Correct answers were received from: Tom Schoene, Kenji Nozaki, Maurizio Brescia, Rob Locke, James T. Flynn, Jr., Steven Trimble, Craig Howard, Bjoern Rehnfeldt, Bill Vickrey, Edgar Dutkowski, Ricardo Graša Matias, Andrzej Jaskula, Giuliano Ranieri, Voronov Aleksey, Rich Austin, Pieter Cornelissen.

Back to the Mystery Pictures Main Page
This section of the HG&UW site created and maintained by Andrew Toppan.
Copyright &copy 2003, Andrew Toppan. All Rights Reserved.
Reproduction, reuse, or distribution without permission is prohibited.