Haze Gray Mystery Picture #166 Answer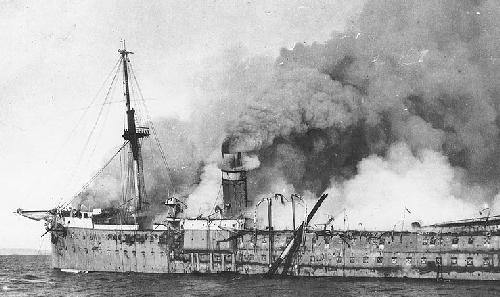 Can You Identify This Ship?
This is the French transport Vinh-Long burning on 16 December 1922.
Vinh-Long was a purpose-built military transport completed in 1881, intended to support the French overseas colonies. She was a three-masted rigged steamship, with a high cruiser-like hull, pierced by an enormous number of ports to supply light and ventilation to her passengers. Vinh-Long was destroyed by fire on 16 December 1922 off the Turkish coast. The US destroyer Bainbridge (DD 246) was steaming five miles ahead of the French ship when the fire broke out, and immediately came to her aid. When it became clear that the fire was uncontrollable, Bainbridge put her bow alongside Vinh-Long's bow to transfer survivors, while her boats rescued more survivors from the water. Soon Bainbridge had 482 survivors aboard, and it was determined that only 14 people had perished in the disaster. Salvage attempts were abandoned due to the threat of magazine explosions, and Bainbridge immediately sailed to Constantinople to seek medical assistance for the survivors. Later that day the 482 survivors were transferred from the crowded destroyer to the French armored cruiser Waldeck Rousseau.
Correct answers were received from: Ed Schweikart, Lance Kopplin, Philip Hungate, Bill Marshall, Bob Harmer, Adam Smigielski, John C. Janeczek, Bob Morrow, Jouko K. Lehmusto, Brian Viglietti, Jeff Noakes, Theodore Leverett, Paul Silverstone, Steve Carlson, Marc Piché, Art Niemoller, Brian Greenall, Yves Grangeon, Austin M. Roper, Marc Pradignac, Steven Shumate.

Back to the Mystery Pictures Main Page
This section of the HG&UW site created and maintained by Andrew Toppan.
Copyright &copy 2003, Andrew Toppan. All Rights Reserved.
Reproduction, reuse, or distribution without permission is prohibited.