Haze Gray Mystery Picture #133 Answer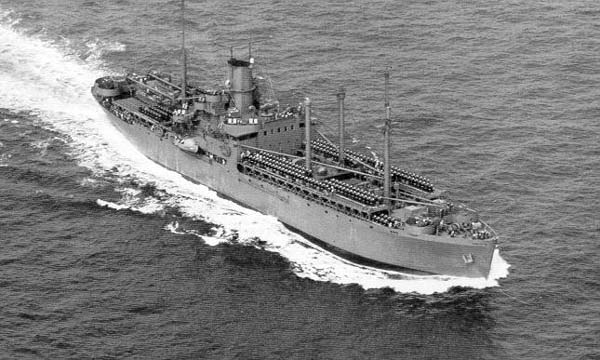 Can You Identify This Ship?
This is USS Sangay (AE 10), a naval mine transport.
Sangay (AE 10), a C1 type freighter, was constucted by Pennsylvania Shipyards, Beaumont, TX, and delivered to the War Shipping Administration as Cape Sable on 9 Sept 1942. The ship was transferred to the Navy on 25 November 1942 and commissioned 25 March 1943, following conversion to a mine transport. In her naval role, Sangay was the only C1-type ammunition ship (AE) in the fleet. During her conversion raised decks were installed above the main deck, to provide an additional layer of mine storage, and most of her cargo doors were plated in. Sangay spent WWII transporting munitions to forward bases, and was decommissioned 20 July 1947. She remained in reserve until transferred to the Maritime Administration in 1960, and was finally listed for disposal in 1975.
Correct answers were received from: James T. Flynn, Jr., John Hendershot, Howard J Koch, Ed Schweikart, Larry D. Akin, Stephen S. Roberts, Chris Cavas, Yves Grangeon, Kenji Nozaki, Wolfgang Hopf, Javier Hueso, Maurizio Brescia, Bob Harmer, Ronald Zietz, Terry Wright, Espen Arnestad, Barry G errard, Tom Hardesty, Gunter Krebs, Art Niemoller, Czéh György, Paolo Marsan, Randy Leo.

Back to the Mystery Pictures Main Page
This section of the HG&UW site created and maintained by Andrew Toppan.
Copyright &copy 2002, Andrew Toppan. All Rights Reserved.
Reproduction, reuse, or distribution without permission is prohibited.