Haze Gray Mystery Picture #171 Answer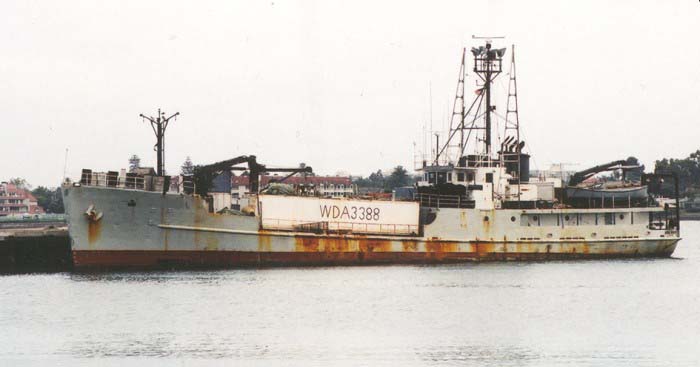 Can You Identify This Ship?
This is Sea Bird, formerly New Bedford (IX 308/T-AKL-17), and originally US Army FS 289.
New Bedford was one of the Army's numerous coastal freighters of the WWII era. She was constructed by Wheeler Shipbuilding, Long Island, New York, and completed in 1945. In 1950 New Bedford was transferred to the Navy as T-AKL 17, and later converted as a torpedo test vessel. She was finally redesignated IX 308 in 1971. She was one of many ex-US Army FS-series vessels serving as US Navy auxiliaries, including at least one other torpedo test vessel, IX 306. The most famous of this group was the "research" ship Pueblo and her sisters Banner and Palm Beach, although these three were more extensively converted from their Army configuration.
After decades of service at Keyport, WA, New Bedford was sold to private owners in 1996 and later converted to this configuation as Sea Bird. Her original Army configuration is still obvious even 60 years after her completion, and several features identify her as ex-New Bedford. In particular, her bulkwarks, the small crane forward, and scuppers match New Bedford and indicate her former identity.
Correct answers were received from: Jimmy Reynolds, Jason Britton, Alfredo Maceda, Adam Koltz, Howard J. Koch, Stefan Devriendt, Helmut Heisler, Kelly Jernigan, Marty Bollinger, Chris Vallery, Byron Connell, Dave Shirlaw.

Back to the Mystery Pictures Main Page
This section of the HG&UW site created and maintained by Andrew Toppan.
Copyright &copy 2005, Andrew Toppan. All Rights Reserved.
Reproduction, reuse, or distribution without permission is prohibited.