Haze Gray Mystery Picture #170 Answer


Can You Identify This Ship?
This is the Soviet heavy lift freighter Anadyr.
This Finish-built vessel, completed in 1988, featured a large, floodable well deck suitable for transporting various small craft and floating structures, or normal cargo such as containers. Its exact purpose in the Soviet fleet was uncertain, and it did not remain long after the USSR disintegrated. In 1995 Anadyr was sold into private ownership and converted to an oilfield production vessel named Petrojarl Foinaven as shown below.
Names of people who submitted correct answers for Mystery Picture #170 were not recorded. Listing of correct respondents will resume with #171.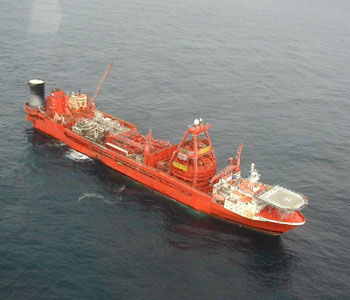 Back to the Mystery Pictures Main Page
This section of the HG&UW site created and maintained by Andrew Toppan.
Copyright &copy 2005, Andrew Toppan. All Rights Reserved.
Reproduction, reuse, or distribution without permission is prohibited.