Haze Gray Photo Feature
HMCS Vancouver
Weapons
---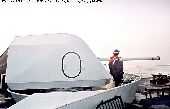 Vancouver and her sisterships are equipped with a single 57mm dual-purpose gun, mounted at the bow.
[Hi-Rez Image]
---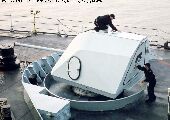 An overhead view of the 57mm gun with a coaming surrounding it, for protection against the sea.
[Hi-Rez Image]
---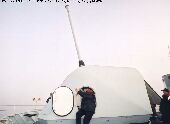 The gun is capable of high angle elevation, to fire against aircraft.
[Hi-Rez Image]
---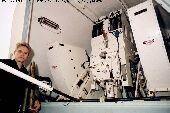 A gun crewman standing at the rear of the mount, with the loading machinery on display.
[Hi-Rez Image]
---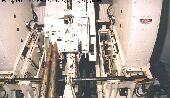 Another view of the loading machinery with two 57mm shells.
[Hi-Rez Image]
---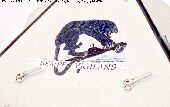 This motto is proudly displayed on the rear of the mount.
---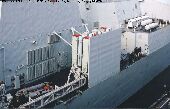 Vancouver has 16 vertical-launch cells for Sea Sparrow missiles. Eight cells are located on each side of the superstructure; the port-side cells are seen here. They are located behind a vertical shield which hides them from radar, reducing the ship's radar cross section.
[Hi-Rez Image]

---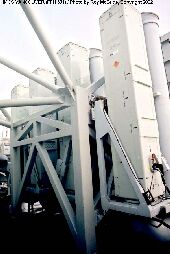 A detail view of the missile cells. Unlike many frigates around the world, these ships do not use the common US-built Mk41 VLS, preferring this topside-mounted system.
[Hi-Rez Image]

---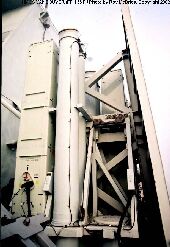 An end-on view of the missile tubes. The round vertical ducts vent rockets exhaust upward.
[Hi-Rez Image]

---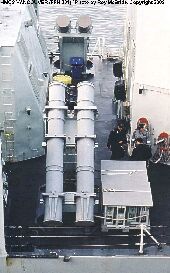 Vancouver also carries the common Harpoon missile tubes. The Harpoons are located between the uptakes; up to 8 can be carried, although only 4 are aboard in this view.
[Hi-Rez Image]

---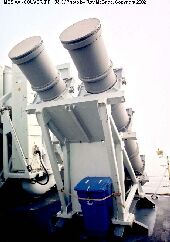 A close view of two Harpoon missile tubes.
[Hi-Rez Image]
---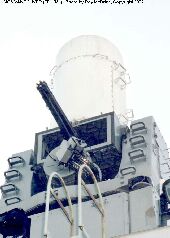 Another near-standard item is the Phalanx CIWS. Vancouver, like many frigates, carries a single CIWS.
[Hi-Rez Image]

---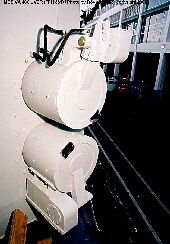 Also in common with many frigates, Vancouver has 12.75 inch (324mm) torpedo tubes for lightweight anti-submarine torpedoes. This view shows two of her four built-in tubes.
[Hi-Rez Image]

---

Back to HMCS Vancouver
Back to the Photo Galleries Main Page
This section of the HG&UW site created and maintained by Andrew Toppan.
Copyright &copy 2003, Andrew Toppan. All Rights Reserved.
Photos Copyright &copy 2002, Roy McBride. All Rights Reserved.
Reproduction, reuse, or distribution without permission is prohibited.