Haze Gray Photo Feature
HMCS Vancouver
Engine Room Details
---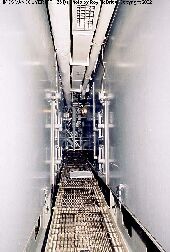 Standing on the catwalk between the ship's two LM2500 gas turbine engine modules. These frigates have two LM2500 engines for high speed, and a single diesel for low speed cruising. The LM2500 is by far the most common marine gas turbine engine, and is employed in many navies around the world.
[Hi-Rez Image]

---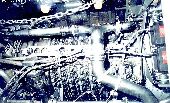 A view into the engine module, showing part of the LM2500 turbine itself. The enormous complexity of these engines is readily apparent - yet they are robust, reliable machines with a fine service record.
[Hi-Rez Image]

---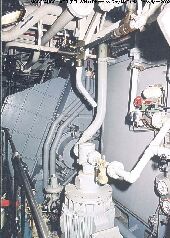 This view shows one LM2500 engine module at right, and the reduction gear to the left. The reduction gear matches the high-speed turbines to the propellers, which are most efficient at low speeds.
[Hi-Rez Image]

---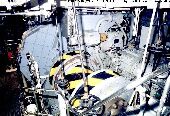 A view from the other side of the reduction gear, showing the shaft coupling connecting the propeller shaft.
[Hi-Rez Image]
---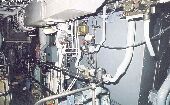 Another view of the engine room, with an LM2500 module behind a collection of piping and gauges. This view is an excellent demonstration of the congestion that is common in machinery spaces.
[Hi-Rez Image]

---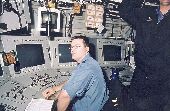 Sailors at the central control station from which all the engines can be controlled and monitored. The ability to control machinery centrally is a great advantage in modern propulsion systems.
[Hi-Rez Image]

---

Back to HMCS Vancouver
Back to the Photo Galleries Main Page
This section of the HG&UW site created and maintained by Andrew Toppan.
Copyright &copy 2003, Andrew Toppan. All Rights Reserved.
Photos Copyright &copy 2002, Roy McBride. All Rights Reserved.
Reproduction, reuse, or distribution without permission is prohibited.