Haze Gray Photo Feature
Nadon / St. Roch II
Voyage of Rediscovery
---
On July 1st, 2000, the Royal Canadian Mounted Police patrol vessel Nadon, having assumed the name St. Roch II, departed Vancouver on a "Voyage of Rediscovery". Nadon's mission was to circumnavigate North America via the Northwest Passage and the Panama Canal, recreating the epic voyage of her predecessor, St. Roch. The 22,000 mile Voyage of Rediscovery was intended to raise awareness concerning St. Roch and kick-off the fundraising efforts neccessary to ensure St. Roch's continued preservation. The voyage was organized by the Vancouver Maritime Museum and supported by a variety of corporate sponsors and agencies of the Canadian government.
Nadon is an aluminum, catamaran-hulled, high-speed patrol vessel. To make the voyage possible, she was escorted and supported by the Canadian Coast Guard icebreaker Simon Fraser. The Coast Guard vessel was chartered by the Voyage of Rediscovery and crewed by volunteers. Throughout the voyage, she provided a variety of necessary services, including provisions and spares, fuel and water, helicopter facilities, and ice escort; she also conducted oceanographic research during the voyage.
The Voyage of Rediscovery was completed in five and a half months, with Nadon arriving back at Vancouver on December 16, 2000. The voyage schedule is available online, along with a journal of the voyage, in two parts - Vancouver to Halifax and Halifax to Vancouver.
These photos of Nadon were taken in January 2001, about a month after completion of the Voyage of Rediscovery.
For more information, or to support the restoration of St. Roch, visit the Voyage of Rediscovery website.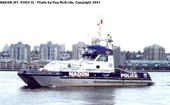 Nadon underway along the Fraser River in New Westminster, British Columbia.
[Hi-Rez Image]
---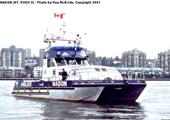 A starboard-side view of Nadon underway.
[Hi-Rez Image]
---
A bow-on view of Nadon approaching the pier.
[Hi-Rez Image]
---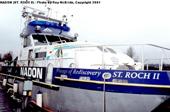 Nadon moored pierside.
[Hi-Rez Image]
---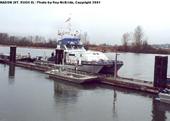 Another view of Nadon at the pier.
[Hi-Rez Image]
---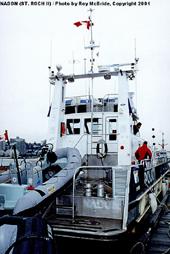 A stern-on view of Nadon showing the stern-launched small boat.
[Hi-Rez Image]
---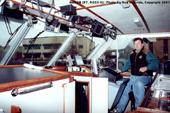 Nadon's bridge. In this view much of the navigation equipment installed for the Voyage of Rediscovery has been removed, returning Nadon to a more typical patrol boat configuration. Sgt. Ken Burton is at right.
[Hi-Rez Image]

---

Back to St. Roch and St. Roch II
Back to the Photo Galleries Main Page
This section of the HG&UW site created and maintained by Andrew Toppan.
Copyright &copy 2001, Andrew Toppan. All Rights Reserved.
Photos Copyright &copy 2001, Roy McBride. All Rights Reserved.
Reproduction, reuse, or distribution without permission is prohibited.