Haze Gray Photo Feature
Soviet & Russian Navy
'KILO' Class Submarines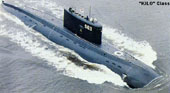 A 'KILO' (Project 877) class submarine. The 'KILO' became the standard Soviet diesel-electric submarine during the 1980's. The boat was intended for export to Warsaw Pact countries, and indeed serves with numerous nations around the world. These boats are primarily indended as coastal and near-shore defensive vessels, rather than deep-sea attack subs. Unlike previous Soviet diesel-electric 7 boats, the 'KILO' uses the "Albacore" hull form, like all modern SSNs.

---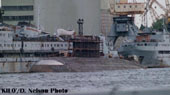 A Project 877 'KILO' class diesel-electric submarine in the Neva River, St. Petersburg, 7/1995. This boat was probably destined for export, perhaps to China or Iran.

---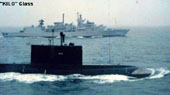 A 'KILO' at sea, being shadowed by NATO surface forces.
---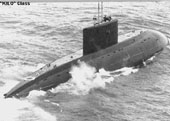 An overhead stern quarter view of a 'KILO'.
---

A 'KILO' in port.
---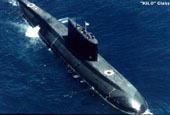 Overhead bow view of a 'KILO'
---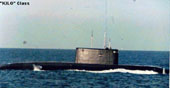 A broadside view of a 'KILO' at sea.
---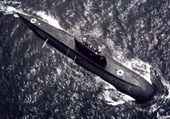 An excellent overhead view of a 'KILO'.
[Jumbo Image]
---

Back to the Soviet & Russian Navy Main Page
Back to the Photo Galleries Main Page
This section of the HG&UW site created and maintained by Andrew Toppan.
Copyright &copy 1998-2003, Andrew Toppan. All Rights Reserved.
Reproduction, reuse, or distribution without permission is prohibited.