Haze Gray Photo Feature
Soviet & Russian Navy
Gun Cruisers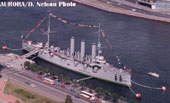 Protected cruiser Aurora on the Neva River, St. Petersburg, 7/1995. Preserved as a relic of the Bolshevik Revolution, she is the oldest commissioned ship in the Russian Navy. She first commissioned in 1903.

---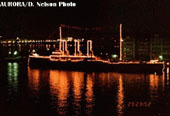 Aurora at night.
---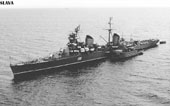 Maxim Gorky class (Project 26B) light cruiser Slava (ex-Molotov) off Crete on 5 June 1967. The salvage tug SB-5 is alongside. This photo was taken during the Arab-Israeli Six Day War, when tensions in the Mediterranean were high. This venerable ship was completed in 1941; she was renamed in 1958. Slava served as a training ship starting in the 1960's and survived through the 1970's.

---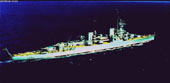 A Sverdlov (Project 68bis) light cruiser underway. 21 ships of this design (only 14 completed), plus five of the very similar WWII-era Chapev class, were built. They were the largest Soviet warships of the 1950's and 1960's, but they were obsolete even before completion. Several were later modified as guided missile cruisers and command ships. The ship shown here is either Sverdlov or Murmansk.
[Jumbo Image]

---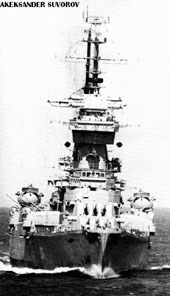 Sverdlov class cruiser Aleksandr Suvorov at sea. Complete in 1953, she was stricken in 1990.
[Jumbo Image]

---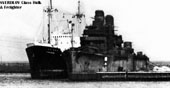 A freighter or military transport alongside a Sverdlov class hulk. The hulk is almost certainly PKZ 130, launched as Admiral Kornilov in 1954 but suspended incomplete in 1956. In 1957 she was redesignated as a hulk and probably was employed as an accommodations ship.
[Jumbo Image]

---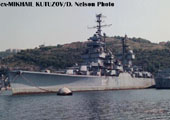 Sverdlov class cruiser Mikhail Kutuzov (Project 68A) at Sevastopol, 8/1995. The last of this once-numerous class of light cruisers, she was stricken in 1994 and was scheduled for use as a target ship.

---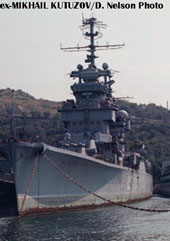 Another view of Mikhail Kutuzov.
---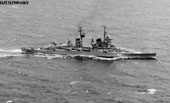 Project 70E modified Sverdlov class cruiser Dzerzhinsky in the Mediterranean on 3 April 1970. Completed in 1952 as a light cruiser (Project 68bis), she was rebuilt with in the early 1960's with an M-2 Volkhov SAM system (NATO SA-N-2 'Guideline') replacing her aft turrets. She was an active unit of the Black Sea Fleet until her 1987 decommissioning, frequently deploying to the Mediterranean.


Back to the Soviet & Russian Navy Main Page
Back to the Photo Galleries Main Page
This section of the HG&UW site created and maintained by Andrew Toppan.
Copyright &copy 1998-2003, Andrew Toppan. All Rights Reserved.
Reproduction, reuse, or distribution without permission is prohibited.