Haze Gray Photo Feature
ROK Navy Visits Vancouver
Frigate Chung-Ju (FF 961)
---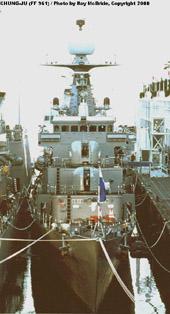 A bow view of the frigate Chung-Ju. Chung-Ju is Korea's newest frigate, commissioned in 1993. She is the final ship of a class of nine 2,180 ton general-purpose frigates, the first major combatants of South Korean design.
[Hi-Rez Image]

---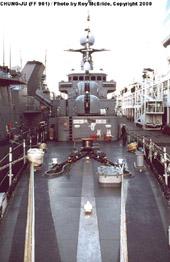 View from the bow looking aft towards the forward guns and the bridge. The lower gun is the popular 3 inch (76mm) OTO Compact, and the upper is a dual 40mm OTO mount - one of three carried by the ship.
[Hi-Rez Image]

---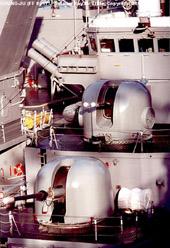 A closeup view of the bridge, and 76mm and 40mm guns.
[Hi-Rez Image]
---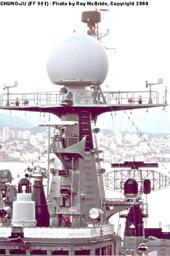 A view of the mast and the various radars and other antennas. The large masthead dome houses one of the main fire control radars.
[Hi-Rez Image]

---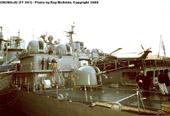 The ship carries a second 76mm gun and two additional 40mm mounts at the stern. 8 Harpoon missiles are carried midships, barely visible here.
[Hi-Rez Image]

---
An overhead view of the aft 40mm mounts and a small fire control radar.
---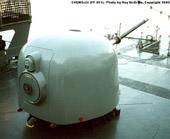 Closeup view of the aft 76mm gun.
[Hi-Rez Image]
---

Back to ROK Navy Visits Vancouver
Back to the Photo Galleries Main Page
This section of the HG&UW site created and maintained by Andrew Toppan.
Copyright &copy 2001, Andrew Toppan. All Rights Reserved.
Photos Copyright &copy 2000, Roy McBride. All Rights Reserved.
Reproduction, reuse, or distribution without permission is prohibited.