Haze Gray Photo Feature
ROK Navy Visits Vancouver
Replenishent Oiler Tae Cheong (AOE 58)
---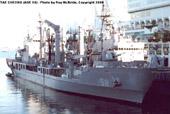 A starboard-side view of Tae Cheong. Tae Cheong is one of South Korea's three modern replenishment oilers. They are 9,000 ton ships which carry both fuel and solid stores; they have four UNREP stations, two each for solid cargoes and for fuels. Tae Cheong was commissioned in 1998.
[Hi-Rez Image]

---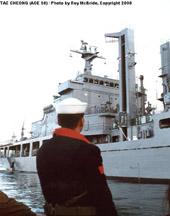 A view of Tae Cheong's superstructure and aft UNREP kingposts, from a small boat.
[Hi-Rez Image]
---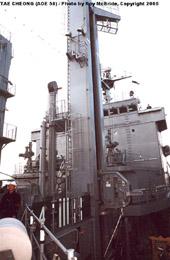 One of the UNREP kingposts and the ship's superstructure beyond.
[Hi-Rez Image]
---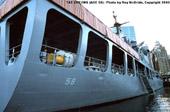 View from a small boat looking up towards the ship's helo deck.
[Hi-Rez Image]
---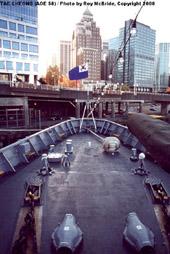 View over the bow from the forward deckhouse. Note the gun barrel at right.

---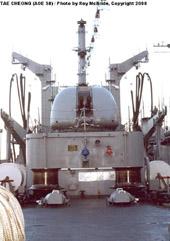 Looking up at the forward 40mm gun mount from the bow. The ship has two such mounts, fore and aft. UNREP kingposts project behind the mount.
[Hi-Rez Image]

---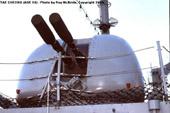 A closeup view of the forward 40mm mount.
---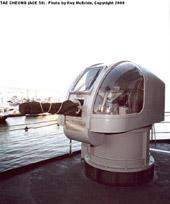 One of the ship's two 20mm Gatling gun mounts. Unlike the CIWS-type mounts, these are manually-operated guns with an operator in the mount.

---

Back to ROK Navy Visits Vancouver
Back to the Photo Galleries Main Page
This section of the HG&UW site created and maintained by Andrew Toppan.
Copyright &copy 2001, Andrew Toppan. All Rights Reserved.
Photos Copyright &copy 2000, Roy McBride. All Rights Reserved.
Reproduction, reuse, or distribution without permission is prohibited.